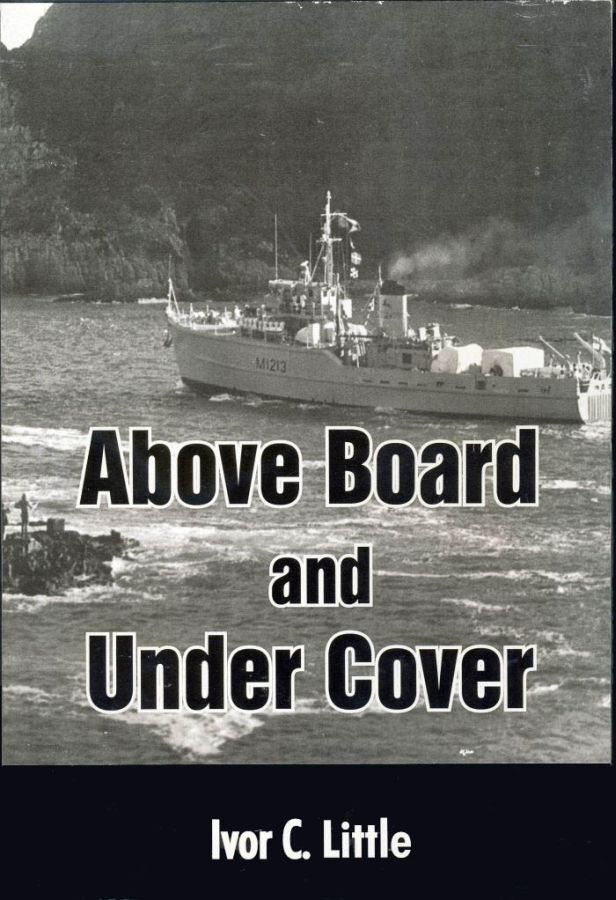 Approx 337 pages in ebook (pdf) format
Above Board and Under Cover by Ivor C Little(2009)
This is an autobiography of Ivor Little, who started as a rebel at school, and ended up as a Captain in the Merchant Navy, a Captain in the South African Navy, a lecturer at the Naval Staff College, a military attache on diplomatic service, and a senior player in the diplomatic transformation of South Africa at the end of Apartheid.

This should give a lot of hope to students and the parents of those children who do not fit into the standard academic system.

Ivor was educated at Rondebosch Boys School in Cape Town, South Africa. While still in Preparatory School, he once was asked by his Afrikaans teacher - "What he wanted to be when he left school?". Even at that young age, Ivor responded that he wanted to be a Navigating Officer in the Merchant Navy. The teacher responded in great good humour saying - "You! If you ever become a navigating officer I will buy you a farm in Adderley Street!" (a major street through the City of Cape Town). This book is about how a teacher owes Ivor a farm in Adderley Street!

Leaving school early, Ivor won a position as a cadet at The South African Nautical College General Botha and started his seafaring career.

When Ivor left home, his father gave him a photo album and told him to keep a record of his adventures. Thanks to these albums, Ivor is able to record in this book his adventures and experiences with names and photographs. He now has more than 38 volumes of albums.

At one stage Ivor was an officer on a ship sailing between South Africa and the USA. While on a short stopover in New York, he met Anne. The nature of shipping is that their time in port is short and the time at sea long. It took a couple more visits before Anne agreed to become his wife and they were married in the USA. Anne then moved to South Africa and they later started a family. The book details the challenges and torments of looking after a family while being an officer on a ship transporting goods around the world.

Later Ivor would join the South African Navy and rise through the ranks and would become a lecturer at the Naval Staff College.

In diplomatic service, it is important for governments to find the correct balance between husband and wife as it is a team effort to represent your country in a foreign country, involving learning the languages and the customs so that one can interact with the diplomats from the other countries. Ivor and Anne formed such a team and were seconded to the diplomatic service to represent South Africa in Argentina and Italy. Ivor's book describes the challenges of diplomatic service.

Ivor's description of some of his voyages are hair-raising. Particularly having to bring a ship that was designed for service on Lake Malawi, where shallow draft is an issue, all the way around South Africa through the stormy seas of South Africa to Saldahna Bay; and an episode where captaining a survey vessel off Israel and being caught up in a storm that overwhelmed the ability of the engines to keep the boat away from the shore.

If you or your children want to have a career as a seafarer, seeing the world and understanding the role and training needed to perform this task - or if you are interested in diplomatic service - READ THIS BOOK!

TABLE OF CONTENTS

{Acknowledgements} 
  {Contents} 
  {Foreword} 
  {Introduction } 
Part One: 
The South African Merchant Navy 
  {1: Early Days } 
  {2: The South African Nautical College General Botha. } 
  {3: The President Brand } 
  {4: Second Mate Foreign Going } 
  {5: The Dalia } 
  {6: Safmarine } 
  {7: The Harbour Service } 
  {8: The "General Botha" - Again } 
Part Two: 
The South African Navy  
  {9: The Military Academy} 
  {10: The South African Naval Staff College} 
  {11: Counter-Insurgency Operations} 
  {12: Armada de Chile} 
  {13: Force Planning (Navy)} 
  {14: Naval Communications Operations} 
Part Three: 
Diplomatic Service  
  {15: Argentina} 
  {16: Limbo} 
  {17: Italy} 
  {18: Personnel Development} 
  {19: Communications Operations (Own Forces)} 
  {20: Public Relations } 
  {21: Shows And Exhibitions} 
  {22: Defence Secretariat} 
Part Four: 
Master Mariner  
  {23: Back To Sea} 
  {24: The South Atlantic} 
  {25: The Mediterranean} 
 {26: Swan Song} 
{Bibliography} 
{About the author} 

The Author
Ivor Little is currently retired and living with his wife Anne in Centurion, South Africa, within easy reach of his three children and their families. Since leaving the sea he has held office as the National Chairman of the South African Military History Society; Chairman of the Gauteng Branch of the SATS General Botha Old Boys Association and Chairman of the South African chapter of the Commonwealth War Graves Association. He is currently President of the Professional and Businessman's (Probus) Club of Pretoria and a member of a number of social clubs.
He has had a number of articles published in various shipping journals; has lectured to a variety of audiences on maritime topics and enjoys building ship models in his spare time.
Ebook version costs R100-00 and will be sent by email. It is available in PDF (Adobe) MOBI, (Kindle), and EPUB (generic ebook reader) format.