The 10:20 to Grahamstown
Blaauwkrantz Bridge Railway Disaster - 22 April 1911
by Ben Bezuidenhout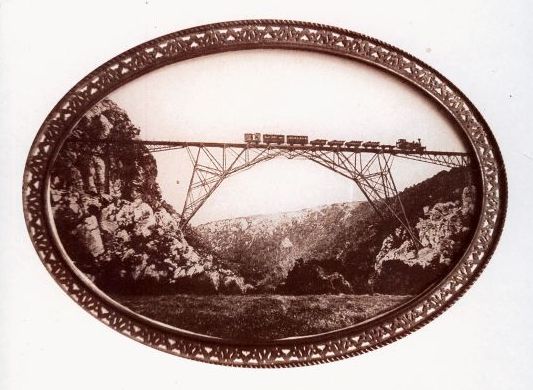 Approx 67 pages in ebook (pdf) format

Grahamstown is a city that is far from the coast and located in a mountainous area. Its main line of connection to the outside world was a small railway line that crossed the mountains. When people came running into the city saying that the train had crashed it had a major impact on almost all the citizens of the city as they were a close knit community and almost everybody new someone on that train. This booklet takes the reader through the entire tragedy and its impact on the community.

This book is factual, and is based on the books, letters, diaries and memories of the citizens of Grahamstown.

Contents


DEDICATION
Part 1
    THE 10.20 TO GRAHAMSTOWN
PART 2
     FURTHER INFORMATION ON THE BLAAUWKRANTZ BRIDGE DISASTER
     NAMES OF THE DECEASED
     THE LIST OF INJURED RELAYED TO THE ALBANY GENERAL HOSPITAL
     THE FUNERALS
     NOTES ON SOME OF THE VICTIMS
THE INQUEST AND OTHER REPORTS ON THE ACCIDENT
OTHER REPORTS
ACKNOWLEDGEMENTS
BOOKS BY THE AUTHOR
THE AUTHOR

The Author
Ben Bezuidenhout was educated at Chaplin School in Rhodesia and comes from a family of hunters stretching way back to the Nineteenth Century. He graduated as a teacher and was the youngest principal in the country. He later received a diploma in Field Ecology and was in charge of the Environmental Bush School at Mushandike National Park. In South Africa he was Principal Nature Conservation Officer in charge of Environmental Eduction and developed and ran the very successful Field Study Centre at Loerie Dam Nature Reserve in the Port Elizabeth area. After 35 years in Nature Conservation Ben has educated over 65 000 children in basic environmental education. He was also principally involved in the research of the endangered Oribi antelope, the type species originating in the Eastern Cape. He was instrumental in the development of the Round Hill Oribi Nature Reserve at Bathurst in the Eastern Cape. Having worked for over twenty-five years in the Blaauwkrantz area around Grahamstown he is steeped in environmental knowledge of the area.
A person of many talents and interests - educator, conservationist, tourist guide, runner, musician, actor and story teller, Ben lives with his wife Norma in Grahamstown.
Ebook version costs R30-00 and will be sent by email. It is available in PDF (Adobe) MOBI, (Kindle), and EPUB (generic ebook reader) format.
Send mail wanting info on buying book
info@rapidttp.co.za