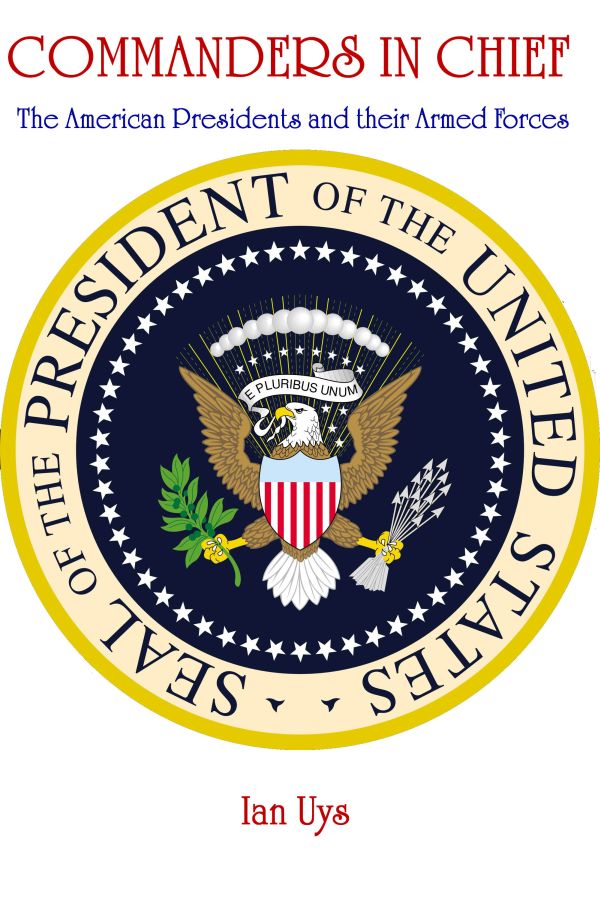 Approx 500 pages in ebook (pdf) format

This is an Ebook. It can be read on a desktop, laptop, tablet or dedicated eBook reader. It will be sent to you via email.
Commanders in Chief - the American Presidents and their armed forces by Ian Uys(2016)
In the United States the elected presidents are the commanders in chief of all the armed forces. Some of them had been generals, yet most had limited military experience. We read of George Washington who survived an Indian massacre, then years later of being in the sites of a gallant British officer's musket - who regarded it as unsporting to shoot him in the back.
After Madison fled the White House, which the British then burnt, they bombarded Fort McHenry but failed to force its surrender. An observer, Francis Scott Henry celebrated the glorious spectacle with a song 'The Star Spangled Banner' the later national anthem.
During the Spanish-American War Teddy Roosevelt led the charge of the Rough Riders near San Juan, for which he was awarded the Congressional Medal of Honour - 100 years later. His eldest son also won the medal posthumously - for D Day's Omaha Beach.
George Bush was the youngest fighter pilot in the Pacific and narrowly escaped being captured and executed by the Japanese. Jack Kennedy towed a wounded sailor to safety through those waters by clenching the man's lifejacket strap in his mouth. In the same theatre Lyndon Johnson earned the Silver Star during a bombing mission.
We learn about their military exploits, and those of their relatives, and the decisions they had to make to win or avert wars despite numerous chronicled assassination attempts.
In more recent times the role of the president in combating terrorism, piracy and numerous acts of kidnapping and mayhem is recorded. The relationship between the president and the armed forces is shown to be a tenuous one at times.
The glossary enlivens, informs and shows what the commanders in chief had in common through the years. From another perspective the book deals with much of the military history of the United States.
TABLE OF CONTENTS

Acknowledgements
Preface
The Presidents
1 George Washington	1789-1797
2 John Adams	1797-1801
3 Thomas Jefferson	1801-1809
4 James Madison	1809-1817
5 James Monroe	1817-1825
6 John Quincy Adams	1825-1829
7 Andrew Jackson	1829-1837
8 Martin van Buren	1837-1841
9 William Henry Harrison	1841-1841 *
10 John Tyler	1841-1845
11 James R Polk	1845-1849
12 Zachary Taylor	1849-1850 *
13 Millard Fillmore	1850-1853
14 Franklin Pierce	1853-1857
15 James Buchanan	1857-1861
16 Abraham Lincoln	1861-1865 +
16a Jefferson Davis 1861-1865
17 Andrew Johnson	1865-1869
18 Ulysses S Grant	1869-1877
19 Rutherford B Hayes	1877-1881
20 James A Garfield	1881-1881 +
21 Chester A Arthur	1881-1885
22 Grover Cleveland	1885-1889
23 Benjamin Harrison	1889-1893
24 Grover Cleveland	1893-1897
25 William McKinley	1897-1901 +
26 Theodore Roosevelt	1901-1909
27 William Howard Taft	1909-1913
28 Woodrow Wilson	1913-1921
29 Warren G Harding	1921-1923 +
30 Calvin Coolidge	1923-1929 *
31 Herbert Hoover	1929-1933
32 Franklin D Roosevelt	1933-1945 *
33 Harry Truman	1945-1953
34 Dwight D Eisenhower	1953-1961
35 John F Kennedy 1961-1963 +
36 Lyndon B Johnson	1963-1969
37 Richard M Nixon	1969-1974
38 Gerald R Ford	1974-1977
39 Jimmy Carter	1977-1981
40 Ronald Reagan	1981-1989
41 George H W Bush	1989-1993
42 Bill Clinton	1993-2001
43 George W Bush	2001-2008
44 Barack Obama	2008-2016
45 Donald J Trump 2017-
+ Assassinated * Died in office
Appendices:

    Alphabetical listing
    Presidential assassination attempts
    Air Force One
    Glossary
    Memorials
    The 20 year curse cycle
    The 50 year scandal cycle
    Similarities in the lives of Abraham Lincoln and John F Kennedy
    Presidents by military rank 

Bibliography
Other titles by the author
The author 

The Author
Ian is a descendant of Knysna's first settler of 1770. He attended Muir College in Uitenhage and then served in the Air Force Gymnasium. He graduated from the University of Cape Town with a B Comm and also captained its boxing team. He was Selected as South Africa's first Commerce exchange student where he worked and studied in the USA then returned to qualify as a chartered accountant.

He lives with his family in Knysna. Ebook version costs R150-00 and will be sent by email. It is available in PDF (Adobe) MOBI, (Kindle), and EPUB (generic ebook reader) format.

Send mail wanting info on buying book

info@rapidttp.co.za