For Valour - The history of Southern Africa's Victoria Cross Heroes
by Ian Uys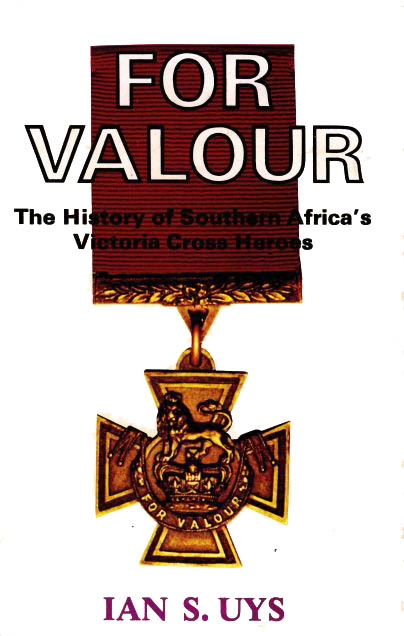 Approx 400 pages in ebook (pdf) format
For Valour - The history of Southern Africa's Victoria Cross Heroes(1973)
This is the story of the men whose deeds of gallantry will live forever in the annals of Southern Africa's history - men such as the surgeon who, having been shot through the chest, plugged the hole with gauze and continued ministering to the needs of others.

After 15 years of research(1973) the author has collected the biographic details of all the Southern African V.C. heroes, not only those serving in South African or Rhodesian units, but also those South Africans who served in other Commonwealth forces and who received the supreme award for gallantry.

From the massacre which spurred a South African on to win the V.C. during the Indian Mutiny of 1857, to the heroic selfsacrifice of South Africa's "Pathfinder" pilot over Germany in 1945, the story surrounding every Victoria Cross award is told.

In addition the campaigns in which the awards were won are described and the later lives of the recipients detailed.

ISBN 0 620 00822 9

Contents

ALPHABETIC LISTING OF RECIPIENTS OF VICTORIA CROSS AWARDS
FOREWORD
PROLOGUE
LIST OF MAPS
THE HISTORY OF THE VICTORIA CROSS
Part 1

CRIMEA 1854

Lieut C. C. Teesdale

INDIAN MUTINY 1857

LieutenantJ. P. H. Crowe

FRONTIER WAR 1877

Major H. G. Moore

ZULU WAR 1879

Corporal C. F. Schiess and Acting Assistant Commissary J. L. Dalton

MOIROSI WAR 1879

Trooper P. Brown and Sergeant R. G. Scott
Surgeon Major E. B. Hartley

ZULU WAR 1879

CaptainH. C. D' Arcy and Sergeant E. O'Toole

BASUTO WAR 1880-1

SurgeonJ.F.McCrea

TRANSVAAL WAR OF INDEPENDENCE 1880-1

Trooper J. Danaher

MATABELE REBELLION 1896

Trooper H. S. Henderson
Trooper F. W. Baxter

MASHONALAND UPRISING 1896-7

Captain R. C. Nesbitt

SOUTH AFRICAN WAR 1899-1902

Captain C. H. Mullins and Captain R. Johnston
Sergeant H. R. Martineau and Trooper H. E. Ramsden
Trooper H. Albrecht
Corporal J. J. Clements
Sergeant J. Rogers
Lieutenant W. J. English
Sergeant-Major A. Young
Surgeon Captain T. J. Crean.
Surgeon Captain A. Martin-Leake

FIRST WORLD WAR 1914-18

Bandsman T. E. Rendle
Captain P. H. Hansen
Temporary Lieutenant W. Dartnell
Private W. F. Faulds
Captain W. A. Bloomfield
Sergeant F. C. Booth
Captain O. A. Reid
Lance-Corporal W. H. Hewitt
Major J. Sherwood-Kelly C.M.G., D.S.O
Captain AM. M. Lascelles
Lieutenant R. F. J. Hayward M.C. (Bar)
Lieutenant R. V. Gorle
Lieutenant A. W. Beauchamp-Proctor D.S.O., M.C.(Bar), D.F.C
Major H. Greenwood D.S.O. (Bar), M.C
Captain R. A. West D.S.O. (Bar), M.C

SECOND WORLD WAR 1939-45

Acting Squadron-Leader J. D. Nettleton
Sergeant Q. G. M. Smythe
Lieutenant G.R. Norton M.M.
Captain E. Swales D.F.C.
Part 2
Additional South African related VC recipients

CRIMEA 1854

Malone,Sergeant Joseph
Rowlands, Bt/Major Hugh
Craig, Colour-Sergeant James

INDIAN MUTINY

Roberts,Lieut Frederick Sleigh
Wood, Lieut Henry Evelyn

ANDAMAN ISLANDS

Griffiths, Private William

AFGHANISTAN

White, Major George Stuart
Cunyngham, Lieut William Henry Dick

BELGIUM 1917

Robertson, Captain Clement

BELGIUM 1940

Gristock, Sergeant-Major George

MALAYA 1942

Anderson,Lieut-Col. Charles G W

APPENDICES

Victoria Cross awards 1856-1972 (Including three Bars).
South African and Rhodesian recipients of the Victoria Cross
South African and Rhodesian units in which recipients were serving at the time they won the Victoria Cross awards ..
South Africans (by birth or domicile) who were awarded the V.C. while serving in other Commonwealth forces ...
South African and Rhodesian V.C.s - Summary of interesting features ....
Campaigns in which these men participated
List of decorations awarded to these men (excluding campaign medals)
Victoria Cross awards won in South Africa,Rhodesia and Basutoland (Lesotho)
Victoria Cross awards won in Rhodesia and Basutoland (Lesotho)
ACKNOWLEDGEMENTS
BIBLIOGRAPHY
Other books by the author
About the author


The Author
Ian is a descendant of Knysna's first settler of 1770. He attended Muir College in Uitenhage and then served in the Air Force Gymnasium. He graduated from the University of Cape Town with a B Comm and also captained its boxing team. He was Selected as South Africa's first Commerce exchange student where he worked and studied in the USA then returned to qualify as a chartered accountant.

He lives with his family in Knysna.

Ebook version costs R120-00 and will be sent by email. It is available in PDF (Adobe) MOBI, (Kindle), and EPUB (generic ebook reader) format.

Send mail wanting info on buying book

info@rapidttp.co.za