Raaff's Rangers
by Ian Uys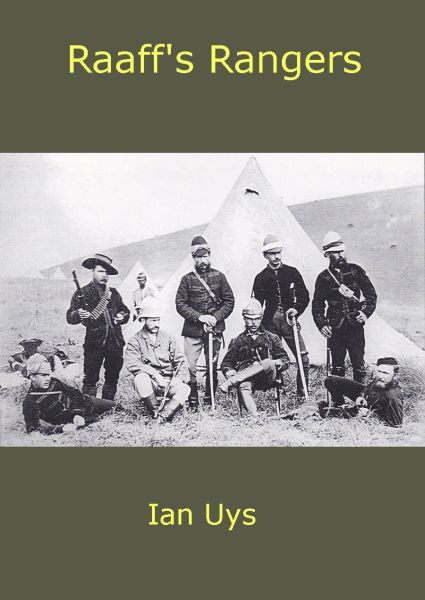 Approx 155 pages in ebook (pdf) format

Pieter Raaff was the most experienced frontiersman in Africa during the 19th Century. His exploits and involvement in battles and skirmishes read like fiction. With his home language of English and Boer background he was an enigma of the time.
Raised in the Orange River Colony, at the age of sixteen he fought with the Freestaters in the 1865 Basuto War. Raaff was wounded during a daring raid on the summit of the Thaba Bosiu mountain stronghold.
In 1878, aged 29, he raised a corps of rough but ready mounted 'Rangers' for the Sekukuni Campaign. After serving there they were then diverted to fight in the Zulu War with Colonel Wood's flying column. Raaff's Transvaal Rangers proved their worth in action at the Hlobane Mountain, Kambula and Ulundi. Due to an underling's financial error Raaff was denied the Zulu War Medal, however was decorated with the CMG for his valuable services.
He married after the war and settled in the Freestate. Raaff sought a military career, so accepted the appointment as commandant of Chief Sepinare's kraal near Thaba Nchu. They were surprised in an attack one night and he narrowly escaped with his life, then rode to Bloemfontein for help.
He moved to the Transvaal, then under English rule, where he acted as messenger of the court - playing a pivotal role in the events leading to the Transvaal War of Independence. He fought the Boers from the Landdrost's Office in Potchefstroom, before being captured and sentenced to death, but was later reprieved. After the war he moved to Kroonstad where he went into business as a butcher. This didn't suit him
Raaff became the magistrate at Fort Tuli, then during the Matabele War led a column in the taking of Bulawayo and the pursuit of King Lobengula. After Major Alan Wilson and his men were killed near the Shangani River the remaining force under Major Forbes were threatened with annihilation. The men rebelled and placed Raaff in charge.
Raaff extricated the survivors from impossible situations and led them back to safety, for which he was personally thanked by Cecil Rhodes. His mysterious and untimely death which followed will always remain a mystery - implicating Dr Leander Starr Jameson, who would two years later lead the raid which gave impetus to the commencement of the South African War.

Contents


TABLE OF CONTENTS 
Acknowledgements
Chapter
  * 1 {The Mountain of Night} 
  * 2 {Raaff's Rangers in Zululand} 
  * 3 {Prelude to the Transvaal War} 
  * 4 {The Black Raven} 
  * 5 {Battle at the Landdrost's Office} 
  * 6 {The Siege of Potchefstroom} 
  * 7 {A Toast to Cronje} 
  * 8 {Recriminations and excavations} 
  * 9 {The Interlude} 
  * 10 {Recruitment for Rhodesia} 
  * 11 {The Pursuit of Lobengula} 
  * 12 {The Shangani Patrol} 
  * 13 {The Retreat} 
  * 14 {The aftermath} 
Appendices
  * Appendix 1 - {The Potchefstroom fort} 
  * Appendix 2 - {Biographies} 
  * Appendix 3 - {Bibliography } 
{Other titles by the author} 
{The Author} 

The Author

Ian is a descendant of Knysna's first settler of 1770. He attended Muir College in Uitenhage, played 1st team rugby and captained the swimming team then served in the Air Force Gymnasium in 1960. At the University of Cape Town he graduated B Comm and captained its boxing team. Selected as South Africa's first Commerce exchange student he worked and studied in the USA then returned to qualify as a chartered accountant. He married Barbara Bowers from London and presently has three children and five grandchildren. Their son lives in the United States, a daughter in Australia and a daughter in Johannesburg.
After a few years in industry he practised in Germiston as an auditor and administered the Germiston Industries Association. Ian served as a platoon commander in the Border War and was decorated for commando activities. He has written 25 books, mainly on South African military history, and is currently published overseas.
In the 1989 general election he was a candidate for the Democratic Party in the Boksburg/Germiston District constituency. At the time he was a private pilot flying from Rand Airport. After a stint in the Cape Town property industry he purchased a practice in Knysna. In 1997 he was awarded his green number for completing ten Comrades Marathons. He is a past Rotary president and a member since 1975; also a past 'Old Bill' and presently trustee of the MOTH Albatross Shellhole.
In 2000 Ian founded the Bushman Valley holiday resort near Prince Albert. In 2014 he resurrected the Knysna Ratepayers' Association and served as its chairman. He and Barbara live in beautiful Knysna on the Cape south coast.
From 1974 to 1994 Ian farmed in the Heidelberg area. As a member of the Heidelberg Commando, Ian Uys met the grandsons of those he writes about. He was a sergeant for some years in the commando, and served as acting platoon commander in the South West Africa/Namibia operational area. He was a co-founder of the Military Medal Society of South Africa and is past chairman of the S.A. Military History Society.
Ebook version costs R100-00 and will be sent by email. It is available in PDF (Adobe) MOBI, (Kindle), and EPUB (generic ebook reader) format.
Send mail wanting info on buying book
info@rapidttp.co.za