Cessna 182 - History of ZS-JVU
based at Grand Central from 1991 to 2003
Click on these pictures to view full screen versions!
Type

Cessna Skylane 182E (Airframe S/N 18E - 53710)
Approx date of first registration (1964)
Four seater with MAUW of 2800lbs and lift ability of about 1100 lbs

Hours (as at 25 March 2003)

Airframe 6203 hours
Engine 4823
Total hours (engine zero timed February 1997)
762 Since overall (of approx 1500 hours time to overhaul)
Propellor Blade HC056YSC 948 hours
Blade HC054YSC 762 hours

Engine

Continental 0-470-R S/n 212111-71 RR
Variable pitch propellor

Date of last MPI

25 March 2003

Undercarriage

Fixed

General condition

Airframe was repainted in new Cessna colour scheme Feb 2001
Upholstery condition - excellent
Engine at half life to overhaul
Aircraft updated to current specifications with all relevant ADs

Instrumentation

ICOM IC-A200 UHF radio
KING KX170B UHF radio and VOR
Bendix ADFY12C ADF with digital ADF frequency display
King KT76A Mode C Transponder ,4 position intecom
Artificial Horizon, Magnetic Compass, Direction Indicator, Altimeter, Air Speed indicator, Vertical Speed Indicator, Manifold Pressure, RPM, EGT, Intercom, Flaps Indicator, Vacuum Gauge, Generator Charge current, Dual Fuel Gauge, Oil pressure, Engine head temperature, Oil Temperature, VOR display indicator, ADF display indicator.

History

Aircraft originally delivered to Gabon in 1964? with registration number TR-LKY.
Remanufactured engine S/N 212111-71-R-R fitted Sept 1971
Transferred to South African registration ZS-JVU 19 May 1976
Has been owned by private syndicates of two or four partners since that time.
Current owner who is selling share bought share in 1991 and been involved in the aircraft since that date.

Accident History

1982 Forced landing Ladysmith - Aircraft out of action 5 months while repaired.
1994 Prop strike Margate - Engine shock loaded and propellor blades replaced - Aircraft out of action for 7 weeks
1996 Prop strike Grand Central - Engine zero timed and one propellor blade replaced - Aircraft out of action for 3 months
Feb 2001 - Freak wind at Grand Central damages the hanger in which ZS-JVU was parked and damaging the aircraft. Wings removed and rejigged to manufacturers specifications and new upper skin replaced to remove all hail damage. Aircraft repainted.

General

This aircraft typically flies about 100 hours per year. In the past few years, Cessna have started producing new 182s which have similar flying performance to ZS-JVU, newer instrumentation, but cost about R3 million to purchase. The 182 is a very strong workhorse and a very forgiving plane to fly, allowing landings on short dirt strips such as game parks. With its 235HP engine, it takes off over very short distances.

Partnership

Four partners with one pilot registered for each share. Hangerage and insurance costs about R750 per month per partner. One partner looks after booking book and bookings on a first come basis. One partner sends out the invoices for flying expenses each month, pays accounts and manages cheque account.

Reason for selling

Have been a partner in this aircraft since 1991. In the last two years have only flown for 3 hours each year and so decided to sell. Plane sold in 2003

Price

SOLD

Contact

Mike Marsh Telephone 010-237-0676
---
PERFORMANCE SPECIFICATIONS From Handbook
GROSS WEIGHT
2800 lbs
SPEED:
Top Speed at Sea Level
170 mph
Cruise, 75% Power at 6500 ft
162 mph
RANGE:
Cruise
695 miles
75% Power at 6500 ft
4.3 hrs
60 US Gallons, No Reserve
162 mph
Optimum Range at 10,000 ft
925 miles
60 US Gallons, No Reserve
7.6 hrs
121 mph
RATE OF CLIMB AT SEA LEVEL
980 fpm
SERVICE CEILING
18,900 ft
TAKE-OFF:
Ground Run
625 ft
Total Distance Over
50-Foot Obstacle
1205 ft
LANDING:
Ground Roll
590 ft
Total Distance Over
50-Foot Obstacle
1350 ft
EMPTY WEIGHT (Approximate)
1625 lbs.
BAGGAGE
120 lbs
WING LOADING: Pounds/Sq Foot
16.0 lbs
POWER LOADING: Pounds/HP
12.2 lbs
FUEL CAPACITY: Total
Standard Tanks
65 US gal.
OIL CAPACITY:
12 qts
PROPELLER: Constant Speed, Dia
82 inches
POWER: Continental Engine
230 rated HP at 2600 RPM
O-470-R
What does a brand new 2003 Skylane (182) look like that currently in production?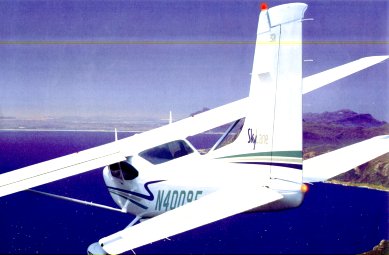 Taken from the new Cessna brochure
Mike Marsh (010 237 0676) mike@rapidttp.co.za
Cessna ZS-JVU 182E history