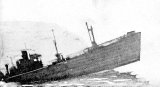 South Africa and the War at Sea
IN WORD AND PICTURE
by John H Marsh

H.M. AIRCRAFT CARRIER "ARK ROYAL"
Secret Visit of a Famous Ship
WHEN the Ark Royal paid her hurried secret visit to Table Bay on December 3,1939, while searching in company with the battle-cruiser Renown, for the pocket battleship Admiral Graf Spee, many of those who saw her were convinced that it was another ship masquerading under the famous British carrier's name. Oft-repeated Nazi claims to have sunk her and Zeesen Radio's persistent query: "Where is the Ark Royal?" made them doubt their own eyes.
But although Hitler had awarded a German airman the Iron Cross for sinking the 23,000-ton carrier in the North Sea in the previous September, and a U-Boat had fired a torpedo at her in the same month, she had already proved that she was still very much afloat. In November, off the West African coast, she had captured, with the help of her aircraft, the big German blockade-runner Uhenfels, bound from Lourenco Marques to Germany, and had taken her into Freetown. The day before this photograph was taken in Table Bay she had stood by while the German liner Watussi was sunk off Cape Point.
During the next two years the Ark Royal took part in most of the major operations of the war in the Atlantic and the Mediterranean, and when she was finally sunk by a U-Boat 25 miles from Gibraltar on November 14, 1941, she had participated in 32 important war operations, steamed 205,000 miles, captured, sunk, or damaged about a dozen enemy ships, and destroyed or damaged 100 enemy aircraft.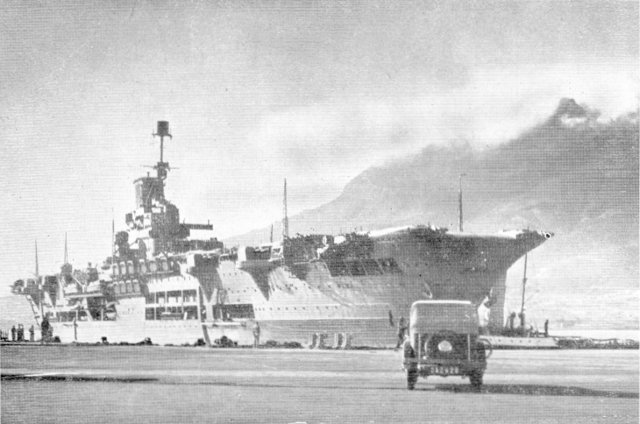 Other well-known books published by John Marsh and available on the Internet
"Skeleton Coast" The wreck of the Dunedin Star off the Skeleton Coast(Namibia) in 1942 - book recently republished
"No Pathway Here" The Annexation of Prince Edward and Marion Islands
John Marsh Maritime Collection A collection of 18000 photographs taken by John Marsh from 1920 of ships calling at Cape Town
---
Back to Home page
---
This site was designed and is maintained by
Trolley Scan (Pty) Ltd (South Africa)

---
© Mike Marsh