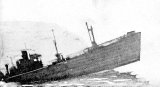 South Africa and the War at Sea
IN WORD AND PICTURE
by John H Marsh

BRITISH LINER "CERAMIC"
There Was Only One Survivor Of Her Sinking
DURING just on 30 years of carrying passengers and cargo between England, the Union, and Australia, the Shaw Savill liner Ceramic earned a reputation as a lucky ship. With her tonnage of 18,700 and length of 675 feet, she was the largest ship serving either the Union or Australia when she was completed just before World War I. The harbour authorities at Cape Town and Durban always had difficulty in accommodating her until their ports were enlarged. She could carry more cargo and bunkers-just under 20,000 tons-than any other ship.
In World War I she was Britain's most valuable food ship, and the Germans consequently tried their best to destroy her. On two occasions submarines tried to torpedo her without success.
Luck seemed still with her when World War II came. In 1940, as related on another page, she collided in the South Atlantic with the freighter Testhank and, though most people expected her to sink, she reached port. Her crew pushed hundreds of tons of valuable cargo, including brand new typewriters, carpets, linen, and even motor cars, through the hole in her side into the sea in order to lighten her.
Her luck deserted her, however, on the night of December 6, 1942, when a U-Boat succeeded in torpedoing her during a heavy gale in the North Atlantic, while she was on her way from England to the Union and Australia, with 378 passengers and a crew of 278. Owing to the high seas and the speed with which the great ship sank, only one life-boat succeeded in getting away, with 40 or 50 people in it, and it soon capsized. A 20-year-old English sapper, Eric Munday, was the sole survivor. After swimming for four hours he was picked up by the submarine, which took him as a prisoner of war to Germany.
The Ceramic disaster was one of the worst of the whole war at sea.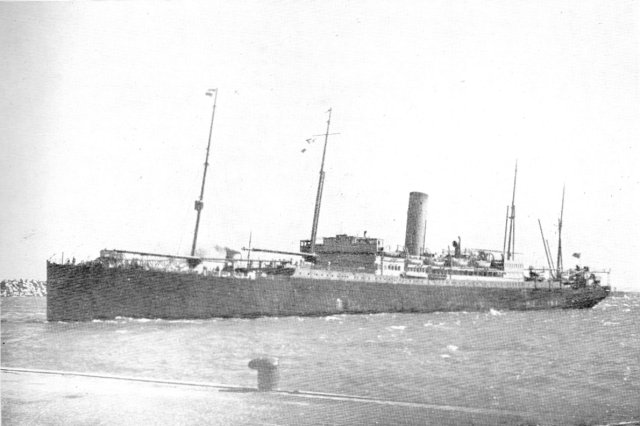 Other well-known books published by John Marsh and available on the Internet
"Skeleton Coast" The wreck of the Dunedin Star off the Skeleton Coast(Namibia) in 1942 - book recently republished
"No Pathway Here" The Annexation of Prince Edward and Marion Islands
John Marsh Maritime Collection A collection of 18000 photographs taken by John Marsh from 1920 of ships calling at Cape Town
---
Back to Home page
---
This site was designed and is maintained by
Trolley Scan (Pty) Ltd (South Africa)

---
© Mike Marsh