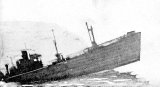 South Africa and the War at Sea
IN WORD AND PICTURE
by John H Marsh

S.S. "HANNINGTON COURT"
Crewless and Ablaze, She Rounded the Cape
WHEN the London freighter Hannington Court caught fire and was abandoned by her crew 100 miles north-west of Cape Town in July, 1941, she drifted for six days right round the Cape, covering more than 200 miles, while repeated attempts were made without success to tow the burning ship with its valuable cargo into port. In the end the sea won and a warship had to sink the vessel by gunfire between False Bay and Cape Agulhas because it threatened to become a danger to navigation.
The Hannington Court left Table Bay for the United Kingdom on July 52, 1941, with about 8,000 tons of copper and chrome ore, tobacco, sugar, maize and carbide in her holds. Early next morning, following an explosion in her engine-room, she caught fire. Within three-and-a-half hours her crew, after a furious battle With the flames, were forced to abandon her, leaving behind two engineers who had apparently been burned to death in the engine-room.
That same afternoon the British freighter Burdwan came along and, after picking up the survivors from the boats, towed the Hannington Court towards Cape Town for five hours until the tow parted and she had to leave her. Mine-sweepers of the S.A.N.F. tried next, with no more success. On the fourth day the Admiralty tug St. Dogmael towed for a few hours until she had to return to Simonstown to re-fuel. Then on the sixth day came the Table Bay tug T. S. McEwen, which got a line across to the freighter's stern and tried for many hours to tow her stern first into Table Bay. Early on the seventh day the burning ship again broke free. The British cruiser Dragon then arrived from Port Elizabeth but although she stood by all day the sea was too rough to allow the Hannington Court to be boarded. At sunset the order had reluctantly to be given to sink her by gunfire, and she went under after 13 6-inch shells had been fired into her red-hot hull.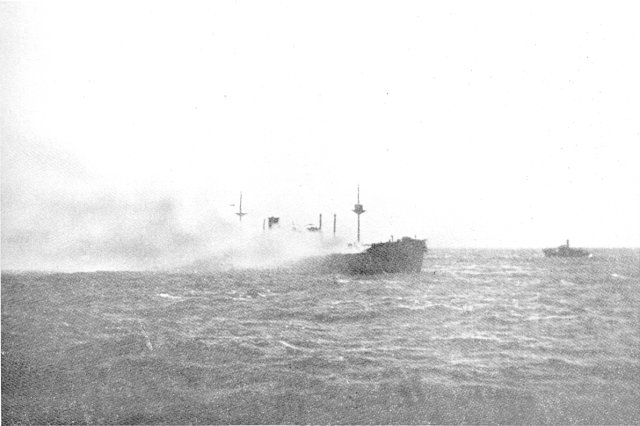 Other well-known books published by John Marsh and available on the Internet
"Skeleton Coast" The wreck of the Dunedin Star off the Skeleton Coast(Namibia) in 1942 - book recently republished
"No Pathway Here" The Annexation of Prince Edward and Marion Islands
John Marsh Maritime Collection A collection of 18000 photographs taken by John Marsh from 1920 of ships calling at Cape Town
---
Back to Home page
---
This site was designed and is maintained by
Trolley Scan (Pty) Ltd (South Africa)

---
© Mike Marsh