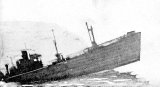 South Africa and the War at Sea
IN WORD AND PICTURE
by John H Marsh

FRENCH TRANSPORT "ILE DE FRANCE"
Made History at Union Ports.
THE great French liner, Ile de France, (43,450 tons) first appeared in South African waters on June 15, 1940, when she docked at Cape Town on her way from New York to the East. She took the record from the Empress of Britain as the biggest ship ever to berth in a South African harbour. She has since lost it again to the 44,786-ton Aquitania, which later berthed at the same quay in Cape Town's new Duncan Dock.
A few days after the Ile de France put to sea again, France surrendered to Germany. The valuable ship was safe from the clutches of the enemy, however, and when General de Gaulle had organised his Free French she became the flagship of the new Free French merchant marine. Sailing under the Cross of Lorraine, she transported thousands of Springbok troops between the Union and the Middle East, and she also carried tens of thousands of Axis prisoners of war from the Middle East to overseas destinations.
She made history in Algoa Bay when she berthed there and spent several months undergoing an extensive overhaul. It was one of the biggest jobs of its kind ever carried out at Port Elizabeth. At Durban, too, she established a record as the largest ship ever to be dry-docked in the Union.
When the Ile de France was built at St. Nazaire in 1926 she was France's largest liner. She lost the honour to the Normandie after nine years, but regained it early in the war when the Normandie was destroyed by fire. In peace-time she has accommodation for 1,500 passengers and a crew of 700. Her speed is 23 knots.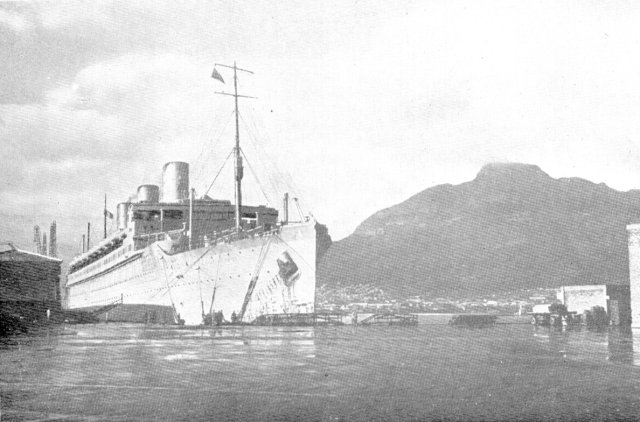 Other well-known books published by John Marsh and available on the Internet
"Skeleton Coast" The wreck of the Dunedin Star off the Skeleton Coast(Namibia) in 1942 - book recently republished
"No Pathway Here" The Annexation of Prince Edward and Marion Islands
John Marsh Maritime Collection A collection of 18000 photographs taken by John Marsh from 1920 of ships calling at Cape Town
---
Back to Home page
---
This site was designed and is maintained by
Trolley Scan (Pty) Ltd (South Africa)

---
© Mike Marsh