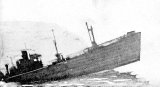 South Africa and the War at Sea
IN WORD AND PICTURE
by John H Marsh

H.M.S. BATTLESHIP "NELSON"
Neither Mine Nor Torpedo Could Sink Her
WHEN H.M.S. Nelson visited Cape Town and Durban in April, 1941, on her first voyage to the Southern Hemisphere, she was the biggest warship ever seen in these waters. She and her sister H.M.S. Rodney were the most powerful warships that had yet been built.
The Nelson's displacement at full load is over 38,000 tons, her overall length 710 feet, her main armament nine 16-inch guns, and her secondary armament 12 6-inch, six 4.7-inch anti-aircraft and 27 smaller guns, besides two super-size torpedo tubes. Her side armour is 14 inches thick, and that of her turrets up to 16-inches. She carries a crew of nearly 1,400, took five years to build, and cost UKPNDS7,500,000.
When the Nelson visited the Union, escorting the largest convoy ever sent from Britain to the Middle East, she had already proved how hard she was to sink. A German mine exploded under her bows in United Kingdom waters, but she made port safely under her own steam.
A few months after her visit to the Union she again proved in action with the enemy how effective was her internal sub-division. This time she had a large number of South Africans among her crew. An Italian torpedo bomber during a violent massed air attack upon the convoy the Nelson was helping to escort to Malta, obtained a hit on the battleship's bows. Some compartments were flooded and she dipped a couple of feet by the head, but then carried on as if nothing had happened.
The next time she was in the news was when she helped in the bombardment of the French coast during the Normandy invasion. Her long-range weapons enabled her to give effective support to the forces advancing inland long after the other ships supporting them had to cease fire.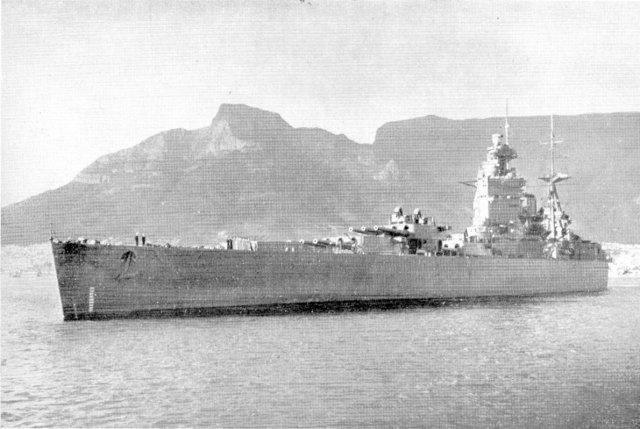 Other well-known books published by John Marsh and available on the Internet
"Skeleton Coast" The wreck of the Dunedin Star off the Skeleton Coast(Namibia) in 1942 - book recently republished
"No Pathway Here" The Annexation of Prince Edward and Marion Islands
John Marsh Maritime Collection A collection of 18000 photographs taken by John Marsh from 1920 of ships calling at Cape Town
---
Back to Home page
---
This site was designed and is maintained by
Trolley Scan (Pty) Ltd (South Africa)

---
© Mike Marsh