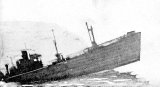 South Africa and the War at Sea
IN WORD AND PICTURE
by John H Marsh

DUTCH TRANSPORT "NIEUW AMSTERDAM"
The Springboks Called Her "The Queen Of The Seas"
THE thousands of Springboks who travelled in the Nieuw Amsterdam during the war were loud in their praises of both her beauty and her comfort. She was the most popular of all the transports that ferried South African troops between Durban and the Middle East.
None of the big liners is better proportioned or more graceful in appearance than this, the pride of Holland's merchant marine. Few, if any, are as luxuriously and comfortably fitted out.
The Nieuw Amsterdam is a turbine steamer of 36,287 tons, built at Rotterdam in 1938 for the Holland-America Line's trans-Atlantic service. Her service speed is 20 knots and in peacetime she has accommodation for 1,230 passengers and nearly 700 crew, with a garage below decks for 60 passengers cars.
Her name is the original name of New York.
She paid her first visit to Union waters in October, 1940, bound east. During the next two or three years she was a frequent visitor. She transported many thousands of Springbok troops north, and often came back with full loads of Axis prisoners of war.
On one voyage to America with German prisoners of the Afrika Korps she anchored in Table Bay for supplies. Despite continuous patrols around her by armed launches, several of the prisoners jumped overboard to try to reach the shore. Some were rescued but others were drowned.
The Nieuw Amsterdam carried the first contingent of S.A.N.F. personnel to the U.S.A. to man landing craft required in the North African invasion.
Other well-known books published by John Marsh and available on the Internet
"Skeleton Coast" The wreck of the Dunedin Star off the Skeleton Coast(Namibia) in 1942 - book recently republished
"No Pathway Here" The Annexation of Prince Edward and Marion Islands
John Marsh Maritime Collection A collection of 18000 photographs taken by John Marsh from 1920 of ships calling at Cape Town
---
Back to Home page
---
This site was designed and is maintained by
Trolley Scan (Pty) Ltd (South Africa)

---
© Mike Marsh