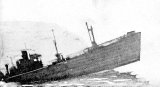 South Africa and the War at Sea
IN WORD AND PICTURE
by John H Marsh

Preface
This is the first of a series of booklets recording the more notable events concerning South Africa in the war at sea.
The end of the war enables some of these stories to be told for the first time. Few of the photographs, either, have previously been published. Except where otherwise stated, they are from the collection of the author or from official sources.
Anyone possessing good photographs, preferably action ones, that might be suitable: for inclusion in this work, is invited to communicate with the author, care of the publishers.
A list of subjects which are to be included in the next and subsequent booklets will be found on the back page.
J.H.M., Cape Town.
---
Other well-known books published by John Marsh and available on the Internet
"Skeleton Coast" The wreck of the Dunedin Star off the Skeleton Coast(Namibia) in 1942 - book recently republished
"No Pathway Here" The Annexation of Prince Edward and Marion Islands
John Marsh Maritime Collection A collection of 18000 photographs taken by John Marsh from 1920 of ships calling at Cape Town
---
Back to Home page
---
This site was designed and is maintained by
Trolley Scan (Pty) Ltd (South Africa)

---
© Mike Marsh