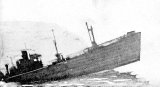 South Africa and the War at Sea
IN WORD AND PICTURE
by John H Marsh

H.M. TRANSPORT "QUEEN ELIZABETH"
The World's Mightiest Ship
THE arrival of the world's mightiest ship on her first visit to Table Bay on November 27, 1940, is still perhaps the most momentous event in South African maritime histdry. In official quarters the utmost secrecy was maintained about the visit at the time. No fanfare of trumpets attended the ship's arrival. She slipped quietly into the bay early one morning, and anchored well beyond the breakwater. For three days she lay there, taking in fuel and water from tankers and hundreds of tons of fresh provisions and stores from small craft. To incoming crews her 1,031-feet length and 85,000-ton bulk seemed almost as massive as Table Mountain.
It may now be revealed that the Queen Elizabeth, manned by a skeleton crew of 800 men, had made a record-breaking dash of under a fortnight, unarmed and unescorted, from New York to Cape Town. From Cape Town she made another record trip to Singapore, where she was fitted out as a transport. Since then she has carried more than 750,000 troops between Australia and the Middle East, the U.S.A. and Australia, Britain and the Middle East, and Britain and the U.S.A. She has rounded the Cape three times, visiting Table Bay twice and Simonstown once. On her trans-Atlantic trips she has carried an average of 15,000 men at a time to the war zone, serving two meals a day and sleeping three men in eight-hour shifts in a bunk. No other ship in the world's history has ever carried so many passengers.
The Queen Elizabeth was completed after the outbreak of war and she is still on the secret list. Few details of her may yet be published. Little more may be said than that she took 6,000 men four years to build, cost UKPNDS6,000,000, is 118 feet in beam, and has 14 decks, steam turbines of over 200,000 horse-power, and a speed of about 32 knots.
Other well-known books published by John Marsh and available on the Internet
"Skeleton Coast" The wreck of the Dunedin Star off the Skeleton Coast(Namibia) in 1942 - book recently republished
"No Pathway Here" The Annexation of Prince Edward and Marion Islands
John Marsh Maritime Collection A collection of 18000 photographs taken by John Marsh from 1920 of ships calling at Cape Town
---
Back to Home page
---
This site was designed and is maintained by
Trolley Scan (Pty) Ltd (South Africa)

---
© Mike Marsh