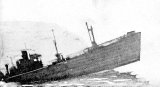 South Africa and the War at Sea

IN WORD AND PICTURE

by John H Marsh


H.M. TRANSPORT "STRATHAIRD"

The First Troopship and The First P.O.W. Repatriation Ship

THE Strathaird made South African history in this war by carrying away the first troops from our shores at its beginning and bringing back our first released prisoners of war at its end.

A 22,281-ton Australian mailship of the P. & 0. Line, the Strathaird arrived at Cape Town within a month of the declaration of war, and, after being rapidly fitted out as a troopship, left on October 10 with the first Rhodesian troops to be mobilised, who were to be trained in West Africa to officer Gold Coast native regiments for strengthening the British Somaliland garrison against the expected Italian invasion.

The Strathaird made many more visits to Union ports during the war, chiefly while carrying Australian or United Kingdom troops to the war fronts. The voyage that won a special place for her in the hearts of South Africans, however, was made just after the war in Europe had ended, when she brought back to the Union from England the first contingent of South African prisoners of war released in Germany, numbering 2,065. She arrived at Cape Town with them on board in June, 1945, and the welcome that was given the ship and her long-awaited passengers will live long in the memory of Capetonians.

The Strathaird and her sister, the Strathnaver, are Britain's largest turbo-electric liners. Their turbines develop 28,000 horse-power and give them a speed of 23 knots. They were built in 1931 and 1932 respectively and in peace-time are painted white, with buff funnels, the outer ones of which are dummies. Londoners and Sydneysiders know the ships as "The Beautiful White Sisters."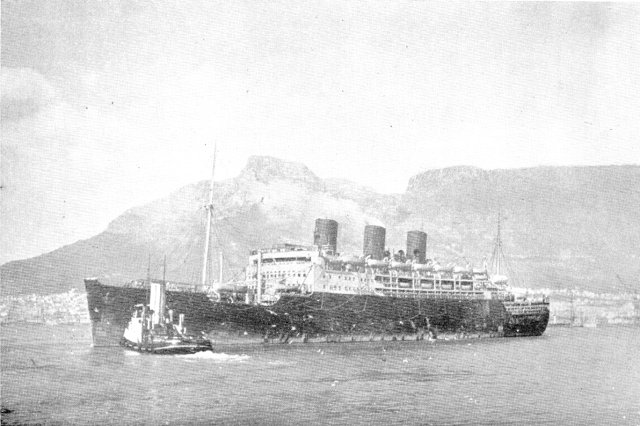 Other well-known books published by John Marsh and available on the Internet
"Skeleton Coast" The wreck of the Dunedin Star off the Skeleton Coast(Namibia) in 1942 - book recently republished
"No Pathway Here" The Annexation of Prince Edward and Marion Islands
John Marsh Maritime Collection A collection of 18000 photographs taken by John Marsh from 1920 of ships calling at Cape Town
---
Back to Home page
---
This site was designed and is maintained by
Trolley Scan (Pty) Ltd (South Africa)

---
© Mike Marsh