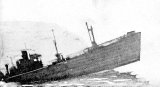 South Africa and the War at Sea

IN WORD AND PICTURE

by John H Marsh


BRITISH FREIGHTER "TESTBANK"

Shortened By 20 Feet in Collision

WHEN the Testbank (5,083 tons) and the Shaw Savill liner Ceramic (18,713 tons) collided practically head-on at a combined speed of about 25 knots some hundreds of miles west of Walvis Bay at two o'clock one August morning in 1940, only a miracle, according to many of those on board, prevented a ghastly tragedy and enabled the damaged ships to reach port safely without a single casualty. Over 600 lives were imperilled.

The Testbank, of the Bank Line, was bound from Cape Town to England with 9,000 tons of ore, and the Ceramic was bound in the opposite direction with over 300 passengers and nearly as many crew. In accordance with wartime regulations, neither ship was showing lights. Both were travelling at full speed.

The lookout on the freighter sighted the liner directly ahead at a distance of about 1 1/2 miles. The lookout on the liner, however, did not see the Testbank until she was within 350 yards. Desperate attempts by both ships to avoid colliding failed. The Testbank drove her bows deep into the starboard bow of the Ceramic, telescoping them for 20 feet as shown in the picture opposite, and leaving a hole roughly 40 feet square, large enough to take a small house, in the liner.

Fortunately for the Testbank's crew their ship was one of the few afloat that quartered her men aft instead of in the forecastle. Fortunately for the Ceramic's crew and passengers, too, she was struck in No. 1 Hold, between the quarters of both and in the only place where this could have happened without causing death or injury to many.

The Testbank returned to Cape Town under her own steam, and the Ceramic was assisted by a tug and escorted by a British warship to Walvis Bay. After temporary repairs she came on to Cape Town, where both ships were made sea-worthy at a cost of nearly UKPNDS50,000.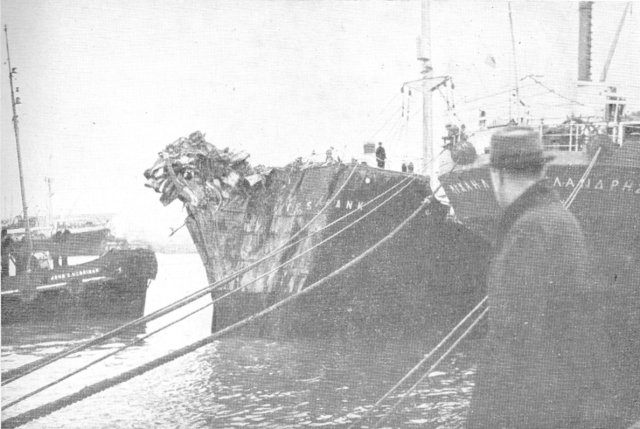 Other well-known books published by John Marsh and available on the Internet
"Skeleton Coast" The wreck of the Dunedin Star off the Skeleton Coast(Namibia) in 1942 - book recently republished
"No Pathway Here" The Annexation of Prince Edward and Marion Islands
John Marsh Maritime Collection A collection of 18000 photographs taken by John Marsh from 1920 of ships calling at Cape Town
---
Back to Home page
---
This site was designed and is maintained by
Trolley Scan (Pty) Ltd (South Africa)

---
© Mike Marsh