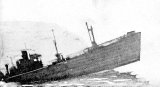 South Africa and the War at Sea

IN WORD AND PICTURE

by John H Marsh
ITALIAN LINER "TIMAVO"

Scuttled On The Zululand Coast

THE scuttling of the Timavo by her crew less than 12 hours after Mussolini had plunged his country into war with the Allies, proved an early omen of the downfall of the Italian Empire. It was chalked down also as a South African success in the first action of many that were to follow between the Union's forces and the new enemy.

The Timavo was one of the Lloyd Triestino's round-Africa liners of 7,549 tons gross, with a speed of 14 knots and accommodation for 58 passengers. At noon on June 10, 1940, she and another Italian liner, the Gerusalemme (8,052 tons) put to sea hurriedly from Durban on receipt of a secret signal that war was imminent.

The Timavo's papers showed that she was bound for Cape ports, but after dropping below the sky-line she turned in the opposite direction. Both ships had orders to try to reach the shelter of neutral Portuguese waters.

During the night the news came through that Italy had declared war, and almost immediately S.A.A.F. planes that had been standing by at coastal aerodromes began an intensive search for the Italian ships. It was still dark when the Timavo was found about 150 miles north-east of Durban. Not until bombs were dropped and machine-guns fired ahead of her did she make any move to respond to the plane's signals. Then she suddenly altered course and ran at full speed on to the coast five miles beyond Cape Mary, just north of St. Lucia Bay. Her crew of 50 were brought back to Durban as prisoners of war by a naval ship, but a tug that went to the scene from Durban found the Timavo beyond salvage. Some of her cargo was subsequently brought ashore by the salvage party seen working from the shore in this picture.

The Gerusalemme succeeded in reaching Lourenco Marques. When Italy surrendered she returned to Durban and was fitted out as a hospital ship for the Allies.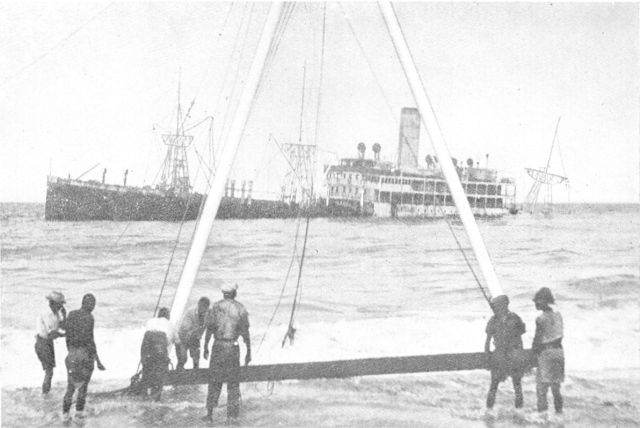 Other well-known books published by John Marsh and available on the Internet
"Skeleton Coast" The wreck of the Dunedin Star off the Skeleton Coast(Namibia) in 1942 - book recently republished
"No Pathway Here" The Annexation of Prince Edward and Marion Islands
John Marsh Maritime Collection A collection of 18000 photographs taken by John Marsh from 1920 of ships calling at Cape Town
---
Back to Home page
---
This site was designed and is maintained by
Trolley Scan (Pty) Ltd (South Africa)

---
© Mike Marsh