Deadwood Camp Gedenksboek
Kamp Kruimels No 2 newsletter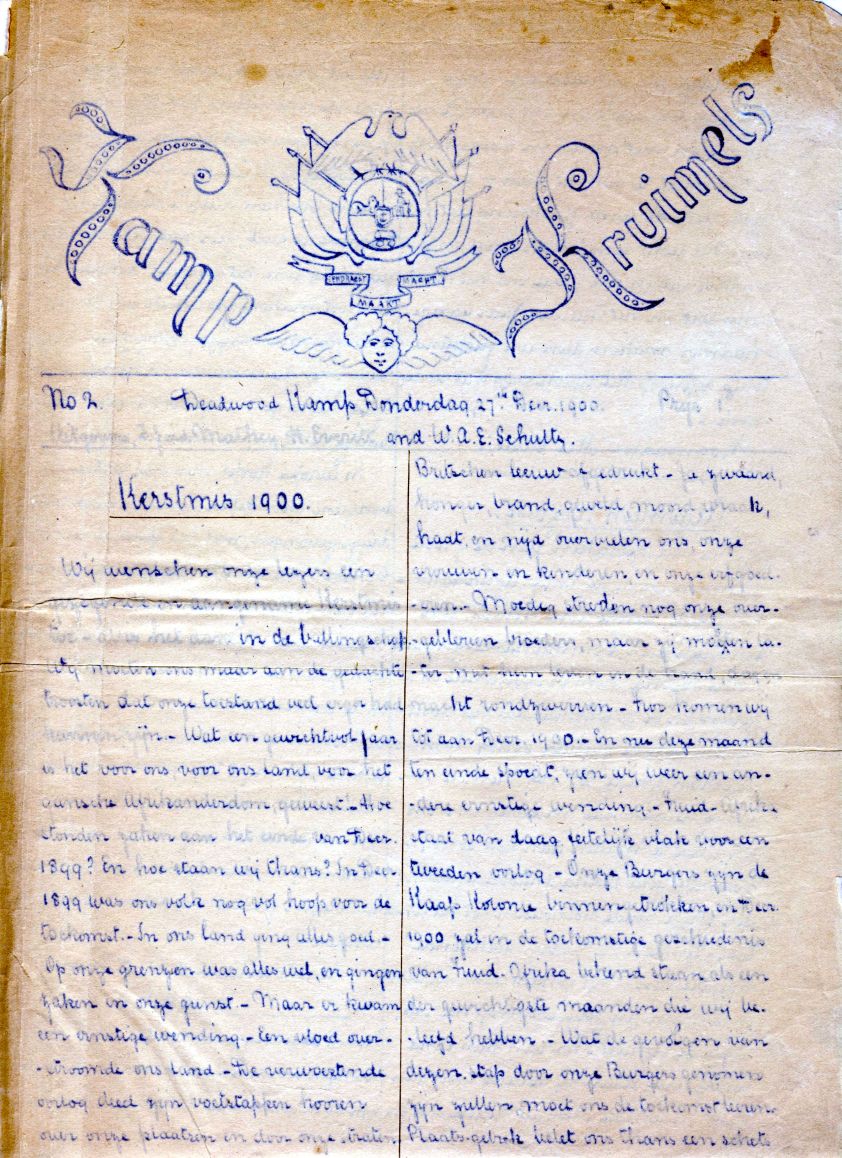 ----------------------------------- Heading -------------------------------------

, No 2 Deadwood Camp Thursday 27thDec 1900 Cost 1d
Publishers: F J vd Mathey, H Everitt and W A E Schultz.
---
Christmas 1900
We wish our readers a healthy and pleasant Christmas - even if we are in exile. We should comfort ourselves with the thought that things could be much worse. What a weighty year lies ahead for us, for our country, for our Afrikaner [nation]. How were things at the end of December 1899? And how do things stand now? In December 1899 our people were still full of hope for the future. Everything was going well in our country. Things were good on our borders and there were no problems in our midst. But things turned bad. A flood overran our country and the footfalls of war made their sound heard over our squares and in our streets. The impressions were the spoor which British lions made. Yes, suffering, hunger, fire, violence, murder, revenge, hatred and poverty overcame us and our wives and children, together with our inherited goods. Our remaining brothers struggled bravely but later had to .... in hand wandered around by day and by night. Then we get to December 1900. And now as this month rushes to an end, we see another dark turning. South Africa is virtually on the brink of another war. Her Burghers have invaded the Cape Colony and Dec 1900 will be known in the future history of South Africa as one of the strangest months ever experienced. What the result of this step taken by the Burghers will be, we must .... the future. Lack of space prevents us from giving a hint of what we think about it.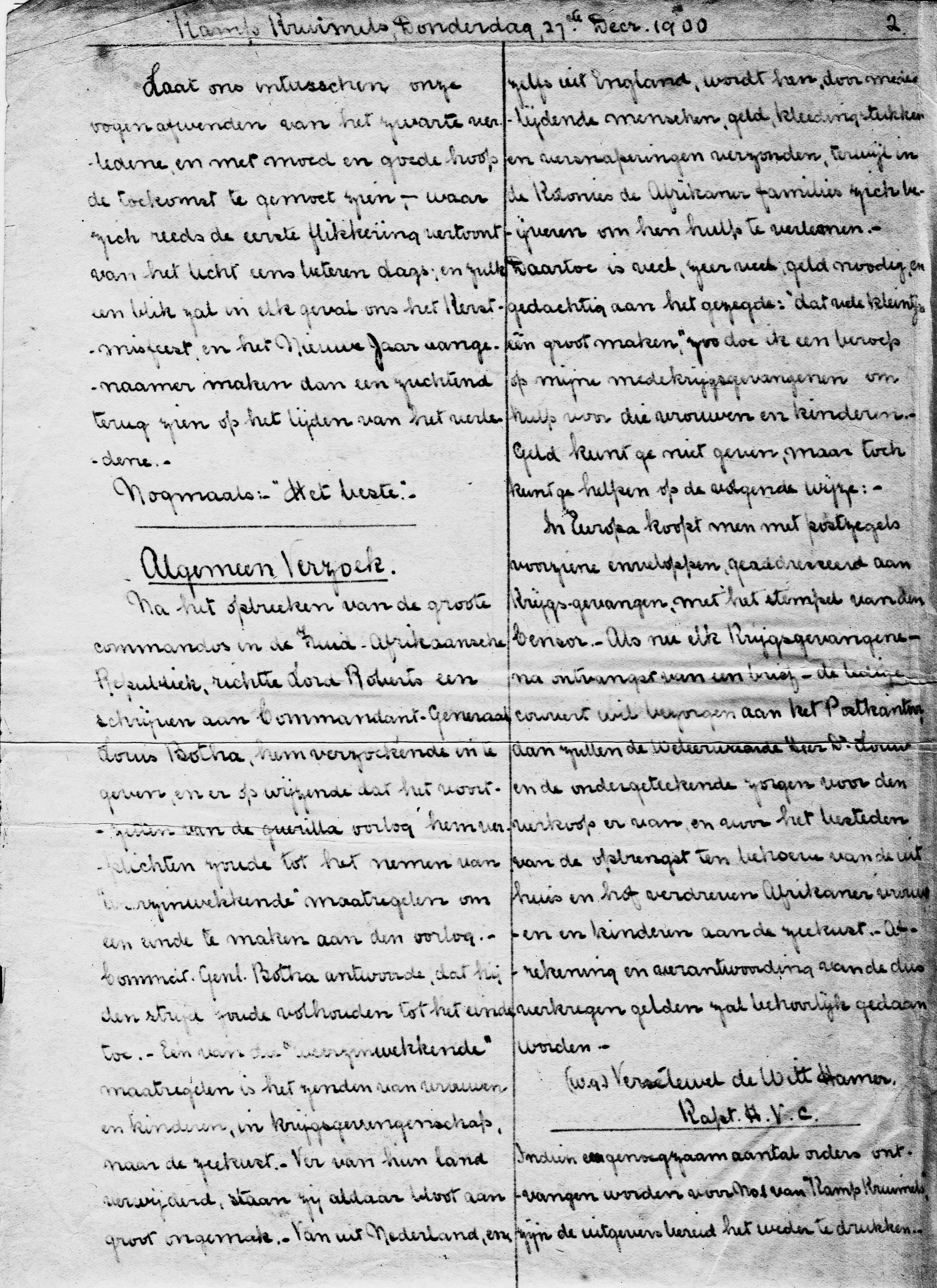 So let us turn our eyes away from this black past and look to the future with courage and good hope. We can already look forward to the faint flickering light of better days to come. At least we have the celebrations of Christmas and the New Year to enjoy instead of looking back on the suffering of the past.
Once again "Best wishes"
---
General Request
After the breaking up of the large commandos in the South African Republic, Lord Roberts wrote to Commandant-General Louis Botha asking him to surrender, and advising him that continuation of the guerilla war would force him to undertake [vreesinwekkende] fear inducing measures to bring the war to an end. Commdt Genl Botha replied that he would continue the fight until the end. One of these measures would be the sending of women and children as prisoners to the sea coast. Far removed from their land, they would be exposed to great discomfort. Sympathetic people in the Netherlands and even some in England sent items including money, clothing and [aursnaperingen]?comforts? while Afrikaans families in the Colonies offered their help. Much, very much money will be needed and one is reminded of the saying 'every little bit helps' [literally - many small things can make ONE big one]. So I am appealing to my fellow PoWs to help the women and children. We may not send money, but we can still help as follows:-
In Europe one buys pre-stamped envelopes, addressed to the PoW, complete with Censor's stamp. If every PoW having received a letter were to give the empty envelope to the Post Office, the Honourable Rev Louw and the undersigned would re-sell them. All proceeds would go to the benefit of the Afrikaner women and children deprived of their homes and hearths and sent to the coast. Proper accounting would be held over the so-donated monies.


(w.a.) Verselewel de Witt Hamer
Capt. CH V C
---
If sufficient orders are received for "Camp Crumbs" No 1 we the publishers are prepared to re-print it.
---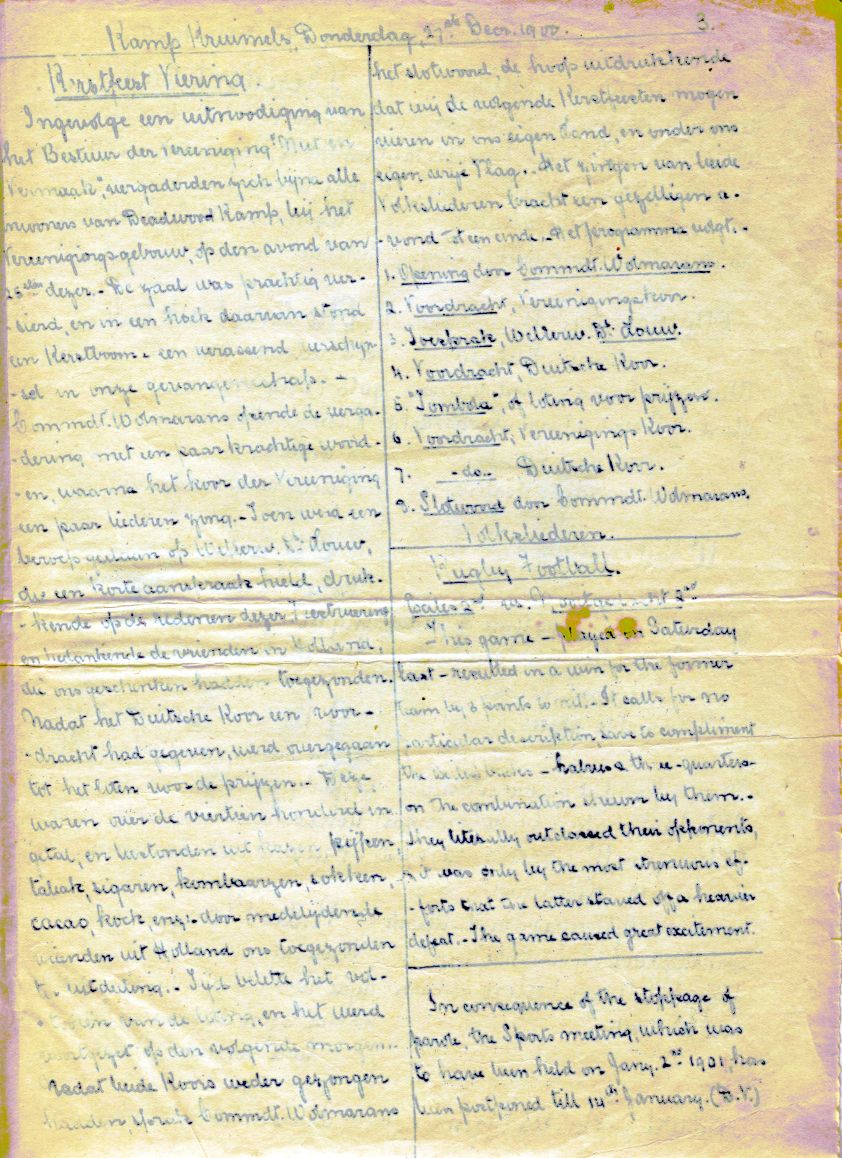 Celebrating Christmas
At the invitation of the Entertainment Society [Nut en Vermaak vereniging] nearly every resident of Deadwood Camp gathered in the entertainment hall on the evening of 25 December. The hall was beautifully decorated and a Christmes tree stood in one corner, a surprising sight in our detention. Commandant Wolmarans opened the meeting with some powerful words, then an [entertainment society] choir sang some songs (carols?) The Hon Rev Louw was then invited to speak and delivered a short sermon in which he reminded us about the reason for the celebration. He thanked our friends in Holland for the gifts which they had sent to us. Then a Dutch choir performed musical items after which attention turned to the prize draw for the presents. There were over fourteen hundred items which included cheeses, pipes, tobacco, cigars, blankets, socks, cocoa, cake etc from friendly sympathisers in Holland for distribution. Time prevented the completion of the lottery (prize draw) and it was resumed the following day. After both choirs had sung again, Commdt Wolmarans had the last word, expressing the hope that we would be celebrating the next Christmas in our own country and under our own Flag. The singing of the two [republican] anthems brought the celebration to a close. The programme was:
Opening by Commndt Wolmarans.
Presentation by Society choir.
Sermon by Hon Rev Louw.
Presentation by Dutch choir.
"Tombola" or prize draw.
Presentation by Society choir.
Presentation by Dutch choir.
Closing remarks by Commndt Wolmarans.
Anthems of the Republics.
---
Rugby Football
Exiles 2nd vs Nooitgedacht 2nd
This game - played on Saturday last - resulted in a win for the former team by 3 points to nil. It calls for no particular description save for complimenting the Exiles backs - halves and three-quarters on the combination shown by them. They literally outclassed their opponents and it was only by the most strenuous efforts that the latter staved off a heavier defeat. The match caused great excitement.
---
In consequence of the stoppage of parole, the Sports meeting which was to have been held on Jan 2nd, 1901, has been postponed to 14th January. (D.V.)
---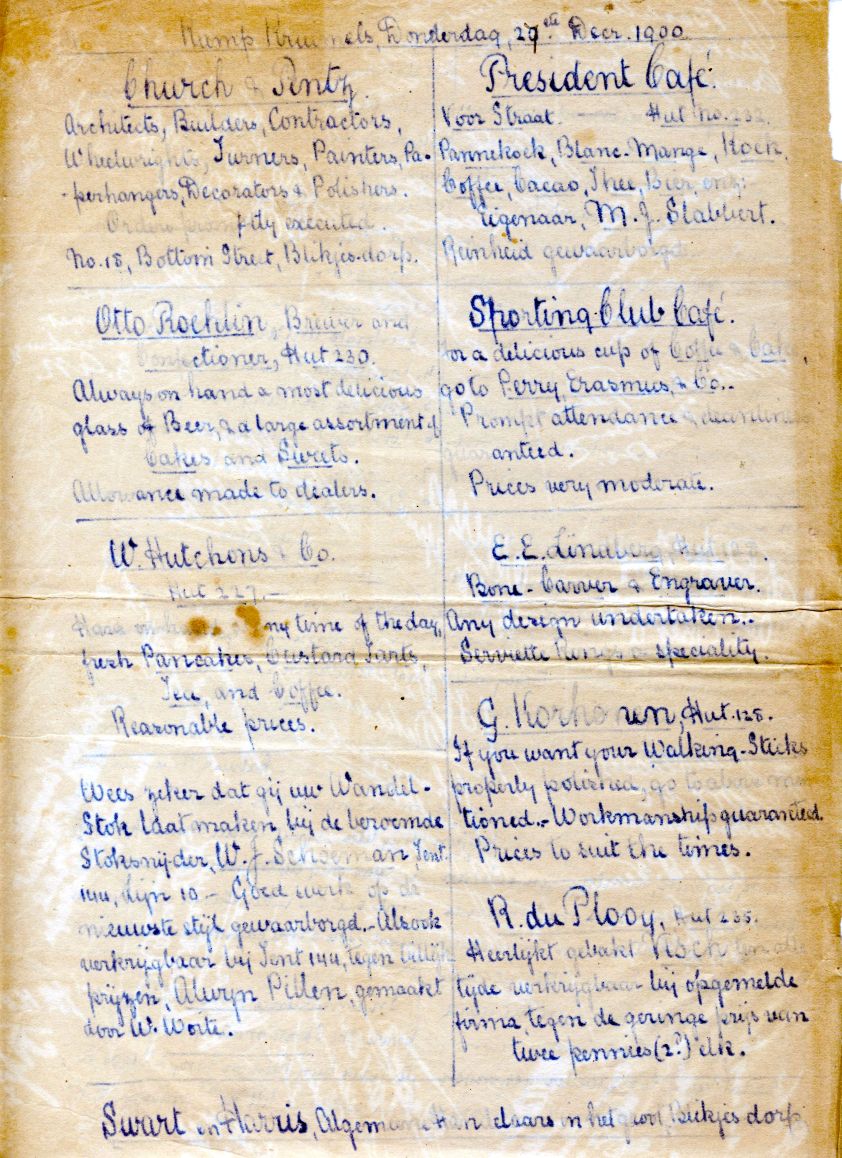 Kamp Kruimels 27th Dec 1900
Church & Pentz
Architects, Builders, Contractors, Wheelwrights, Turners, Painters, Paperhangers, Decorators and Polishers
Orders personally executed
No 18, Bottom Street, Blikjiesdorp
---
Otto Roehlin
Brewer and Confectioner, Hut 230
Always on hand a most delicious glass of beer
and a large assortment of cakes and sweets
Allowance made for dealer.
---
W Hutchons & Co
Hut 227
Have on hand, at any time of the day
fresh Pancakes, Custard tarts
tea and coffee
Reasonable prices.
---
[Carpentry and medicine]
Rest assured that we will have your stave [wandelstok]
made by the well known Carver W J Schoeman, Tent 144, Line 10.
Good work and most modern styles guaranteed.
Aloe tablets at reasonable prices, made by W Worte,
also available from Tent 144
---
Swart and Harris
General dealers in large Blikkiesdorp [Tin Town]
---
President Café
Voor Street - Hut No 232
Pancakes, Blanc-mange, Cake,
Coffee, Cocoa, Tea, Beer, etc.
Owner: M J Slabbert.
Cleanliness guaranteed.
---
Sporting Club Café
For a delicious cup of Coffee & Cake
go to Perry Erasmus & Co.
Prompt attendance and cleanliness guaranteed.
Prices very moderate.
---
E. E. Lïndberg, Hut 128
Bone-carver and engraver.
Any design undertaken.
Serviette rings a speciality
---
G. Korhonen, Hut 125
If you want your walking sticks properly
polished, go to abovementioned:-
workmanship guaranteed.
Prices to suit the times.
---
R du Plooy, Hut 235
Delicious baked fish available at all hours
for the low price of 2d each.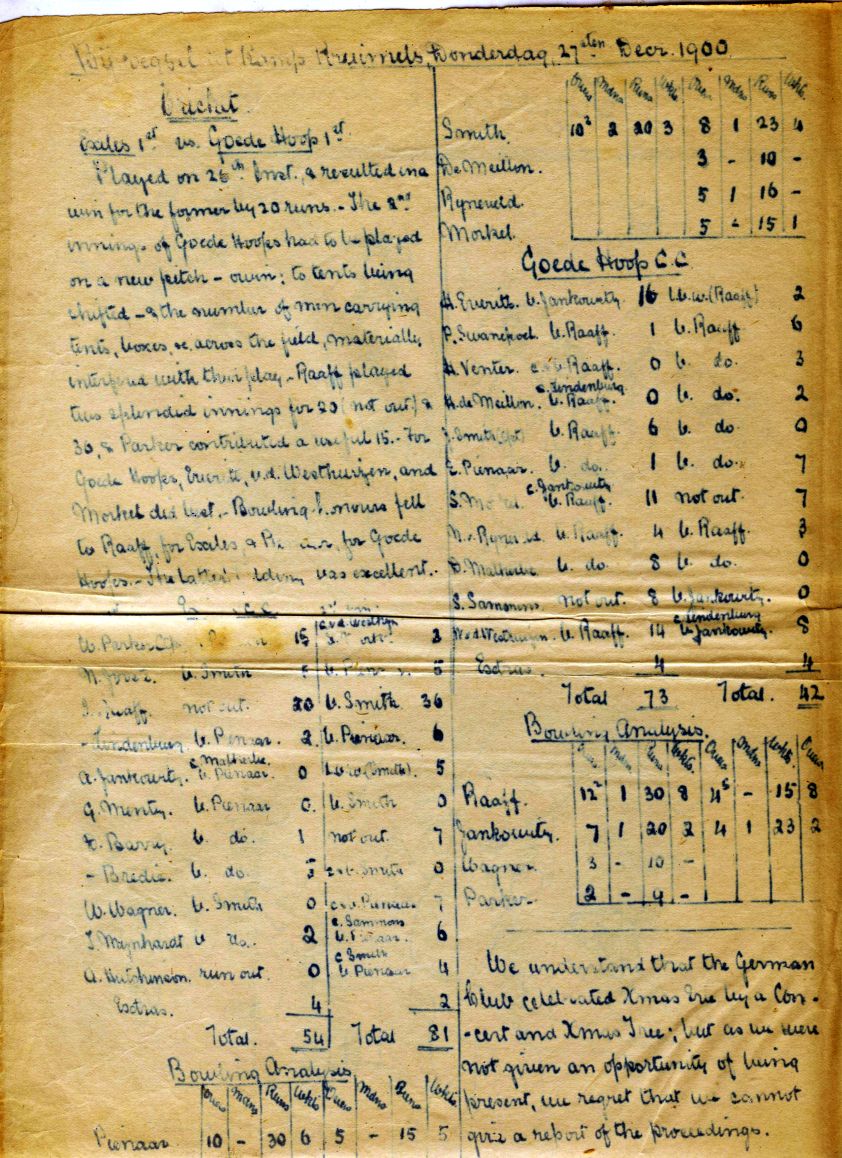 Cricket
Exiles 1st vs Good Hopes 1st
Played on 26th inst. and resulted in a win for the former by 20 runs.
The second innings of Good Hopes had to be played on a different pitch owing to tents being shifted - by the number of men carrying tents, boxes etc across the field, materially interfered with their play. Raaff played two splendid innings for 20 (not out) and 30, and Parker contributed a useful 15.
For Good Hopes Everitt, van der Westhuizen and Morkel did best. Bowling honours fell to Raaff for Exiles and Pienaar for Good Hopes. The latter's fielding was excellent.
Exiles Batting scorecard
First innings (2nd) 2nd innings
W. Parker Cap b Pienaar 15 (2nd) c vd Westhuizen b Morkel 3
N. Jooste b Smith 5 (2nd) b Pienaar 5
I. Raaff not out 20 (2nd) b Smith 30
-. Lindenberg b Pienaar 2 (2nd) b Pienaar 6
A. Jankowitz c Malherbe b Pienaar 0 (2nd) lbw (Smith) 5
G. Mentz b Pienaar 0 (2nd) b Smith 0
D. Barry b Pienaar 1 (2nd) not out 7
-. Bredie b Pienaar 5 (2nd) c & B Smith 0
W. Wagner b Smith 0 (2nd) c & b Pienaar 7
T. Mynhardt b Smith 2 (2nd) c Sammons b Pienaar 4
A. Hutchinson run out 0 (2nd) c Smith b Pienaar 4
Extras 4 (2nd) 2
TOTAL 54 (2nd) 81
Good Hopes Bowling Analysis
For 1st and (2nd) innings
Sequence:- Bowler,Overs,Mdns,Runs,Wkts,(2nd), Overs, Mdns, Runs, Wkts
Pienaar 10.2, -, 30 , 6 ,(2nd). 5, -,15, 5
Smith 10, 2,20,3,(2nd),8, 1,23,4
de Meillon -, -, -. -. (2nd), 3, -, 10, -
Ryneveld -, -, -. -. (2nd), 5,1,16,-
Morkel -, -, -. -. (2nd), 5, -,15, 1

Good Hopes Batting scorecard
First innings (2nd) Second Innings
H. Everitt b Jankowitz 16 (2nd) lbw Raaff 2
P. Swanepoel b Raaff 1 (2nd) b Raaff 6
H. Venter c & b Raaff 0 (2nd) b Raaff 3
H. de Meillon c Lindenberg b Raaff 0 (2nd) b Raaff 2
J. Smith (Capt) b Raaff 6 (2nd) b Raaff 0
E. Pienaar b Raaff 1 (2nd) b Raaff 7
S. Morkel c Jankowitz b Raaff 11 not out (2nd) 7 7
M. v Reyneveld b Raaff 4 (2nd) b Raaff 3
D. Malherbe b Raaff 8 (2nd) b Raaff 0
M. Samonins not out 8 (2nd) c & b Jankowitz 0
W vd Westhuizen b Raaff 14 (2nd) c Lindenberg b Jankowitz 8
Extras 4 (2nd) 4
TOTAL 73 (2nd) 42
Exiles Bowling Analysis
For 1st and (2nd) innings
Sequence:- Bowler,Overs,Mdns,Runs,Wkts,(2nd), Overs, Mdns, Runs, Wkts
Raaff 12.2 ,1 ,30, 8, (2nd). 4.5, -, 15, 8
Jankowitz 7, 1, 20, 2, (2nd). 4, 1, 23, 2
Wagner 3, -, 10, -,(2nd), -,-,-,-
Parker 2, -, 9, -,(2nd), -,-,-,-
---
We understand that the German Club celebrated Christmas Eve by a Concert and Xmas Tree; but as we were not given an opportunity of being present, we regret that we cannot give a report of the proceedings.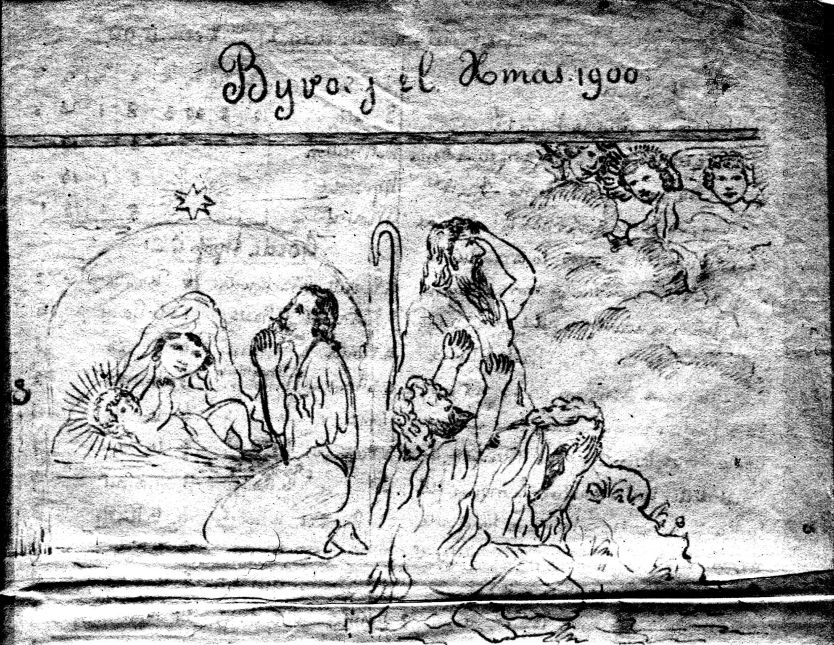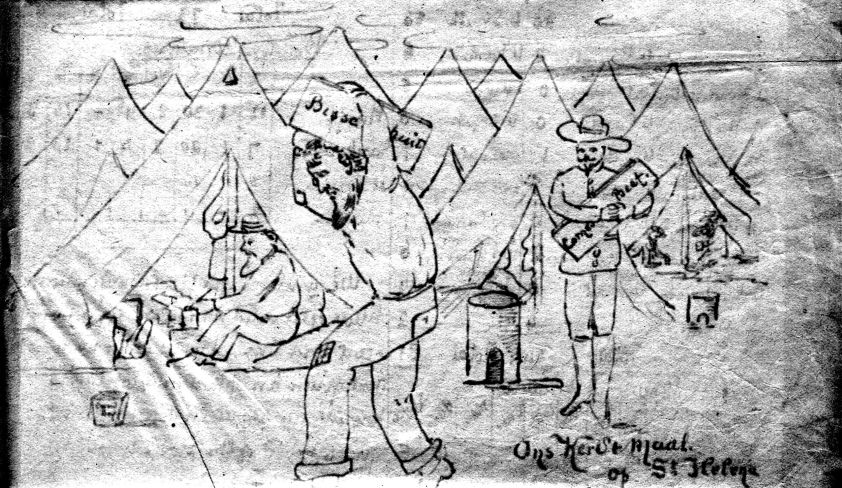 The images on this page are high resolution to preserve contents. Save the images and view with a viewer if more resolution needed.
mike@rapidttp.co.za