South African Maritime Museum
John Henry Marsh 1914-1996
Noted maritime photographer and author
PORT POURRI
by BRIAN INGPEN
Article published in the Cape Times,Wednesday, September 15 2021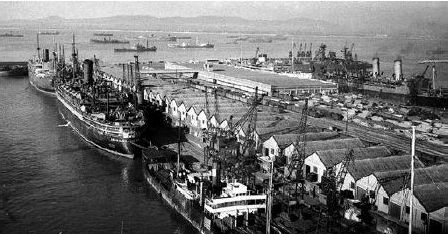 [THE amiable John Marsh was a prolific maritime photographer and had permission to photograph ships during World War 2. Taken on April 16, 1941, this photograph is one of his most memorable images of wartime Cape Town. It shows part of one of the largest convoys to call at the Cape during World War II. | JOHN MARSH ]

TWO current sea dramas off the coast rekindled the tale of two groundings – by the same ship – in the same place 13 years apart. Nearly 90 years later, she attracted royal attention!
Several years ago, John Marsh, once the shipping editor of Cape Argus, renowned maritime photographer, acclaimed author, and a leading publisher of trade and travel journals, compiled a most interesting portfolio relating to that vessel, a three-masted barque built in 1882 in Britain as Sierra Pedrosa.
With a cargo of Welsh coal bound for India, Sierra Pedrosa anchored in Table Bay on July 25, 1889 to revictual. With little warning, a depression moved over the Cape five days later, spawning gale-force winds that whipped up heavy seas. When her anchor chain parted, the ship was driven ashore near the mouth of the Salt River, with the loss of one life.
Despite there being little hope of the vessel being refloated, once much of her cargo had been jettisoned, she was refloated and drydocked.
Contrary to expectations, she was repaired, reloaded her cargo that had been bought back from an enterprising local merchant who had collected it from the beach, and sailed for India, reaching Kolkuta 58 days later.
In 1902, a Dundee shipowner bought her, and, as Brutus, she loaded general cargo in London and sailed for Cape Town. She anchored in Table Bay on 14 August 1902, but that night, a winter storm drove her ashore at the Salt River mouth – as had happened earlier in her career.
Fortunately, the harbour lifeboat rescued all her crew. On that frightful night, the 1866-vintage steamer City of Lincoln was wrecked and another sailing vessel, The Highfields, was also lost. Brutus was refloated later but because of damage incurred during her stranding, she did not resume normal trading and became a storage hulk in Table Bay.
When the Shaw Savill steamer Aotea grounded at Mouille Point nine years later, the refloating operation required much cargo to be discharged. The first task was the recovery of 300 tons of dynamite aboard, and within hours of the grounding, a tug brought lighters into which stevedores gin- gerly discharged the explosives that were then stowed in Brutus's holds in the bay. This was a wise move as a fire broke out in a coal bunker near the stern of Aotea a few days later and could have caused an enormous explosion had the dynamite still been aboard.
Apart from a reported spell in Walvis Bay as an accommodation vessel for women and children during the South-West African campaign of 1915, Brutus remained at anchor in Table Bay until Irvin & Johnson required a hulk for coal storage for their whaling operations from South Georgia Island. In 1918, the old vessel was prepared for a tow, filled with 1 500 tons of coal, and four whalers connected towing wires to Brutus for the month-long voyage, deep into the wild Southern Ocean.
Brutus served as a coaling hulk at South Georgia until 1923 when new owners Lever Brothers converted the whalers' coal-fired boilers to use oil, leaving the old sailingship to feed the coal fires in the tiny settlement until the last whalermen left the island in 1931. The hulk remained – at the mercy of the elements in that hostile environment.
A real go-getter, and inspired by transport of the old steamer Great Britain from the Falklands to Bristol where she is a museum ship, John Marsh envisaged a similar use for Brutus in Cape Town. He consulted far and wide, his quest taking him even to Prince Philip's Buckingham Palace office where he enjoyed a cordial reception. Probably as a result of Marsh's contact with the prince, specialist members of the crew of HMS Cumberland, the frigate on the Falklands patrol at the time, surveyed the vessel, as did a private surveyor. Sadly, they reported independently that the sailingship was in poor condition and that transporting her on a heavylift vessel to Cape Town would be impossible.
With his dream of establishing a museum ship still firmly entrenched, Marsh focused on another old sailing- ship, Bayard, that, in her heyday had also traded via the Cape, but had also become a hulk in South Georgia.
Although in better condition than Brutus, Bayard's preservation was stillborn as the costs of bringing her to Cape Town were prohibitive.
The late John Marsh was an entrepreneur of note, developing several reputable trade journals from scratch. In addition, a great legacy to South Africa – and indeed to global maritime history – is his unique, vast and fascinating photographic library of images of thousands of ships and harbour scenes. The Maritime Museum has the custody of that wonderful record of shipping at the Cape (and elsewhere) including wartime views of ships in Cape Town. That museum is on the move – and it will be interesting to see how the magnificent John Marsh Col- lection is displayed in the new venue.
brian@capeports.co.za
Ingpen is a freelance journalist and the the author of nine maritime books
A catalogue of the John H Marsh photographs is maintained on the internet, www.rapidttp.co.za/museum/. Prints of these original negatives can be ordered online. Enquiries can be e-mailed to marsh@iziko.org.za.
See too:
http://rapidttp.com/museum/jmmrc.html
www.nowmedia.co.za
Article on the "John Henry Marsh 1914-1996"
Article on the "Passion of John Marsh" published in the Cape Times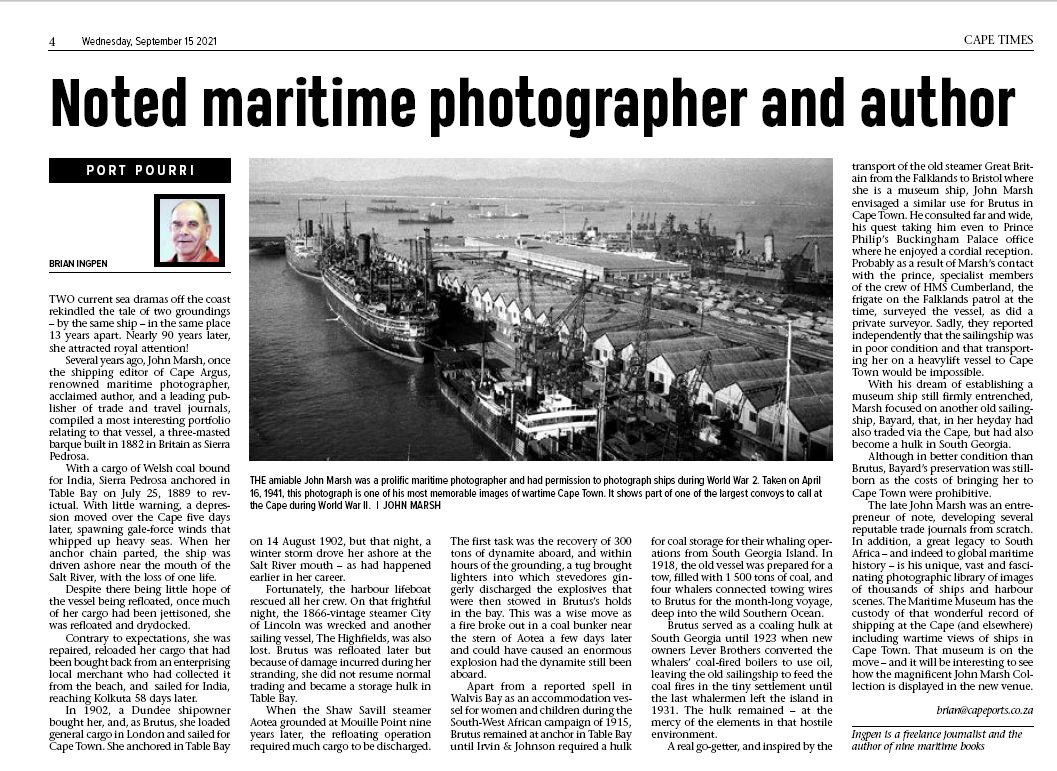 John H Marsh Maritime Research Centre -South African Maritime Museum