South African Maritime Museum
John Henry Marsh 1914-1996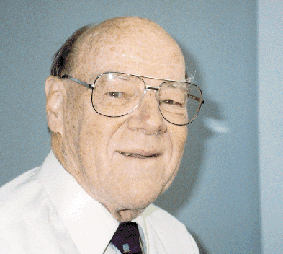 Writing was his tool and shipping his passion.
Born in Sea Point, Cape Town on the 7th March, Marsh found in shipping an ongoing source of true tales of high drama that inspired him from the age of 9 when he started collecting pictures of ships until his death in Johannesburg among his beloved Maritime reference books and photographs.
He died at the age of 81, having kept detailed records of local maritime history for 72 years including the period before mass air travel when Cape Town enjoyed its heyday as the centre of shipping and passenger travel in the Southern hemisphere.
At age 14 while still at Sea Point Boys High School he was urged by his family to supply The Cape Argus with a picture he had of a ship that had been reported to be in distress. It was published and this fired his interest. He was soon given his first regular paid assignment and started writing a series of articles for The Cape Argus on famous ships. After matriculating he was able to earn a living contributing photos and articles to many local newspapers and magazines.
In 1933 aged 19 The Cape Argus took him on as full-time Shipping Editor. He was with The Argus for 20 years. Marsh was a progressive thinker who embraced change. He planned and ran a campaign in The Argus that resulted in the building of Cape Town's Duncan Dock and its Sturrock Dry Dock. He voyaged extensively starting in 1936 with the record breaking voyage of the Union Castle mailship Stirling Castle. Transit records were big news then and Marsh organised and carried out the first actuality broadcast from a ship at sea for the South African listeners.
Between 1931 and 1941 Marsh photographed most of the ships that called at Cape Town including those that called during the first years of the Second World War with special permission of the naval authorities. The negatives now form part of the John H Marsh Maritime Collection housed at the Maritime Museum and number some 18000. As each ship docked he interviewed the crew looking for human interest angles to maritime stories. Many of the ships he photographed in the thirties were later casualties during the War.
One such story he picked up was the harrowing true story of the wreck of the Dunedin Star in 1942. With the blessing of South African prime minister, General Jan Smuts, he researched and wrote a book giving an account of the dramatic saga. Called "Skeleton Coast" it was a best seller which gave its name to the desolate area in northern Namibia where the wreck took place. In fifty years it has been printed in 19 editions and in many languages including a 1997 translation into German.
In 1948 he accompanied the secret South African expedition to annex the Prince Edward Islands as the sole press representative. He wrote "No Pathway Here" about his experiences on the expedition.
With the advent of mass air travel and changing transport patterns on the cards, in 1953 Marsh resigned from The Argus and started The Travel & Trade Promotion Organisation with his wife Leona.
Today, based in Johannesburg and known as Travel & Trade Publishing, the business remains family-owned and is run by his son David. The company prints and publishes a number of specialist newspapers in the field of travel and shipping. Marsh remained an independently minded innovator and aggressive campaigner often using his media as propagators of his ideas and ideals. Among its printed titles are Freight & Trading Weekly, Travel News Weekly and SA Tourism Update. Obsessed with getting the news out first, it was natural that Marsh encouraged the development of electronically distributed information through networks and Travel & Trade Publishing publishes widely on the Internet (Travelinfo and Cargo Info Africa) as well as to special interest groups such as travel agents.
In 1984 he semi retired and began cataloguing the John H Marsh Maritime Collection. He continued to pursue vigorously a number of ideas ranging from making Cape Town a centre for historical ships to the reintroduction of low cost sailing cargo ships aimed specifically at creating employment for South Africans. He also concentrated on his first love and established the Ship Information Service which advertised that anyone could ask John Marsh any reasonable question about any ship and expect an answer.
On 18 February 1996 he died in Johannesburg in the library of his Maritime Institute surrounded by his shipping reference books.
On 23 August 2003 Leona died at her home in Johannesburg having continued John's work to promote Maritime Research. Their work continues via their children - namely Michael, Dave, Lee and Shayne.
Article on the "Noted maritime photographer and author" published in the Cape Times
Article on the "Passion of John Marsh" published in the Cape Times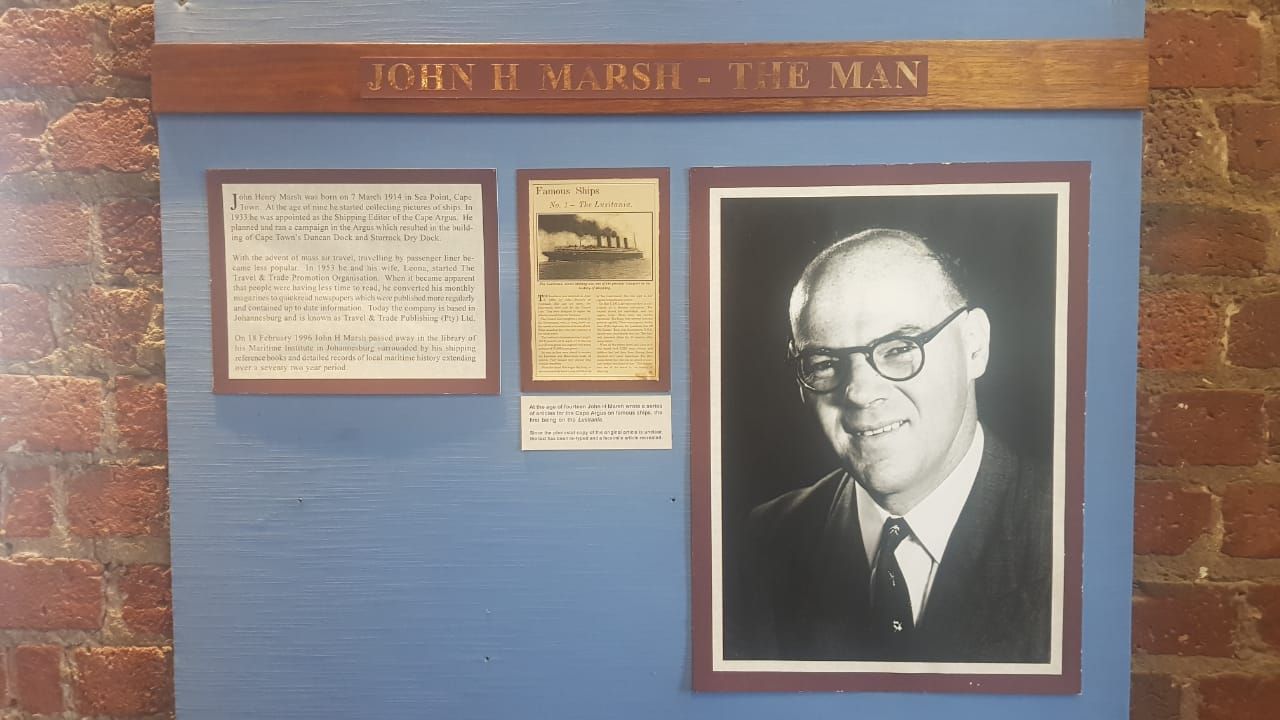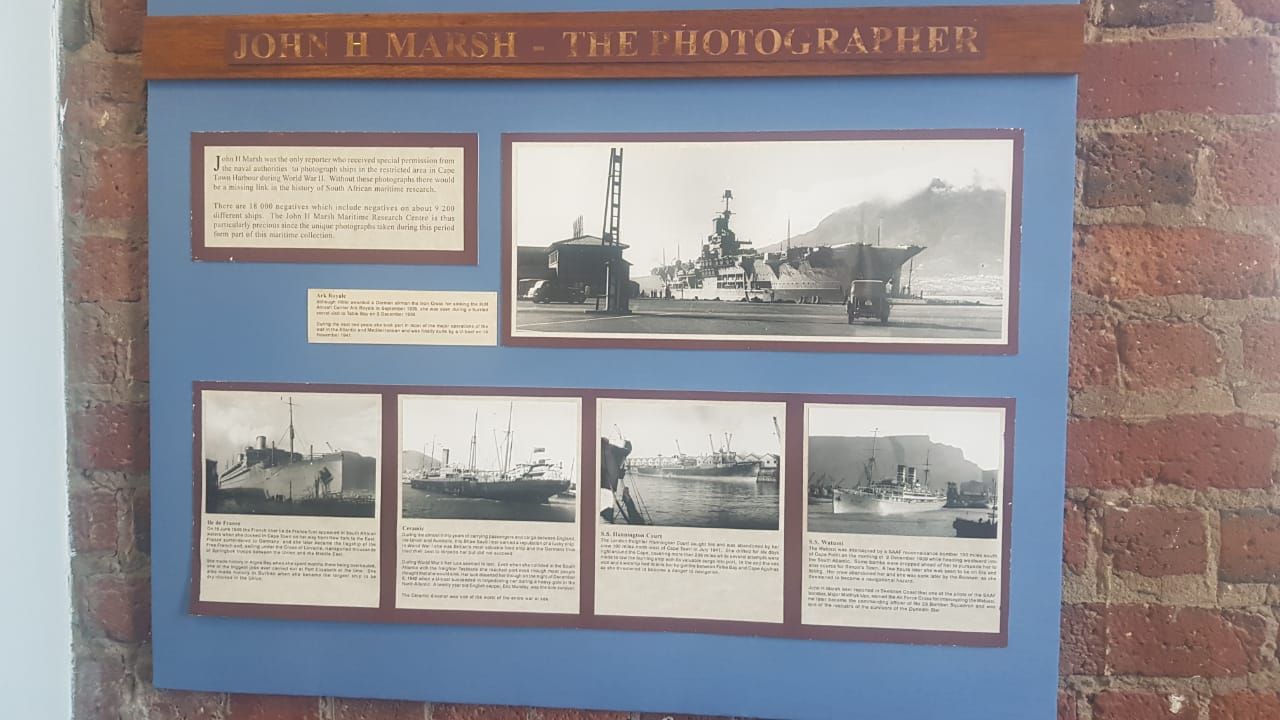 John H Marsh Maritime Research Centre -South African Maritime Museum