NO PATHWAY HERE
by John H Marsh
The factual account of the annexation of the Prince Edward and Marion Islands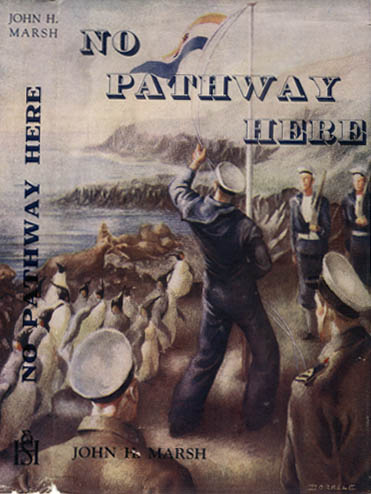 The author of Skeleton Coast has for his second book obtained quite as wonderful a story. Mr. Marsh was the only journalist to go to the Marion and Prince Edward Islands when these were so dramatically occupied recently, and in his vivid account will be found the real reason why the islands were taken. He also tells of the dangers overcome, the hardships encountered, the fantastic weather conditions and the unusual wild life found there.
The final chapter, with its startling suggestions regarding the future of the Antarctic territories, should prove of more than ordinary interest to many others besidcs those living in South Africa.
As Field-Marshal Smuts states in his Preface . . . Here is another true story of modern pioneering and adventure that will, I am sure, be an inspiration to many generations to come.
Published by MIKE MARSH
P.O. Box 59227, Kengray, 2100
South Africa
Includes an exact copy of the original book, first published in 1948 by
HOWARD B. TIMMINS, Cape Town
for
HODDER and STOUGHTON, LONDON
Copyright John H Marsh (1948)
See also
Skeleton Coast the world famous epic about the recovery of the survivors of the Dunedin Star
The John H Marsh Maritime Research Centre a repository of 18000 photographs of ships
South Africa and the War at Sea by J H Marsh: booklet of interesting ships calling at Cape Town
mike@rapidttp.co.za