SKELETON COAST
by John H Marsh
Please note!!! We are in the process of moving this site to the Cloud. Please use the email address
info@rfidradar.com
to contact the company during this period as other email addresses might not work.
December 2014 -Since 1978 readers have been asking for copies of the book which had been out of print.
In 2006 the book was reprinted. Now we can announce that the 2006 reprint is sold out as well as its 2008 successor.
In December 2014 the 14th reprint of the book was run!. The new reprint(2014)
of the book is available in English from the Namibian Scientific Society
and can be ordered via the internet!!
The ebook edition can be ordered via Joan's ebooks
Alternatively we hold a small stock of the printed version for readers in South Africa which can be ordered via Send email for information
2014 edition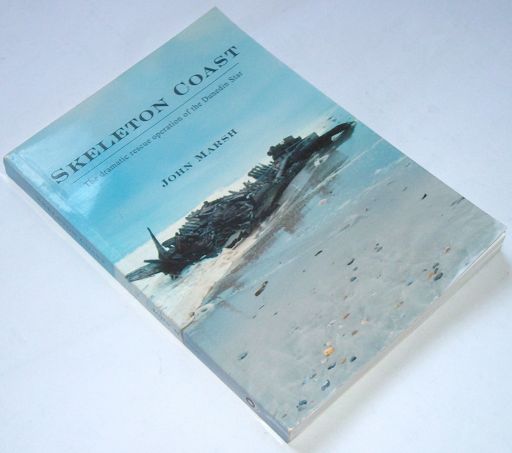 THIS is a re-issue, up-dated and much more fully illustrated, of the book first published in 1944 that released the hitherto top secret story of what is surely the most dramatic and inspiring shipwreck and rescue drama of all time.
The story is true in every particular, incredulous as many a reader is likely to find the amazing series of events related. There were some who labelled it "the wildest fiction" when first they read it. But it has stood the test of time. The incident that led to the participation in the drama of the Merchant Marines of several countries, the British and South African Navies, the South African Air Force, the South African Army, the South African Police and the South African Railways and Harbours Administration,demanding from each of the men their utmost resources of courage, endurance, persistence, ingenuity, compassion and humanity, as well as intelligence and muscle, took place midway through World War 2 off the coast of South West Africa that is scheduled soon to become the independent country of Namibia.
That particular part of the S.W.A./Namibia coast has been for centuries for all who knew it the most frightening piece of the Earth.
The story of the wrecking of the big British passenger liner Dunedin Star and the eventual rescue of her more than 100 passengers and crew, at the cost of other lives, another ship, a big aircraft, a number of army trucks, etc., has become known to millions since the book was first published, and is generally accepted to be the peer of true adventure stories so far to come out of Africa. Edition after edition of the original book came from the presses in English and in translations in Africa, England, the Continent of Europe and America, over a period of nearly a quarter of a century. However, the last edition was sold out more than a decade ago, so this up-dated and expanded and generously illustrated re-issue is certain to be eagerly received.
Naval and military censorship ruled when the earlier editions of Skeleton Coast were published, and only a handfull of approved photos were obtainable to illustrate the book. But for this expanded re-issue a remarkable collection of nearly 100 pictures, many of them history-making and of dramatic action, and most of them now published for the first time, has been assembled.


This internet version and the 2014 reprint is based on the last edition to be published by John H Marsh in November 1978 in which he added details about the fate of each participant as an Appendix to the end of the original book.

This is an internet publication of Skeleton Coast. Up to and including Chapter 2 is provided for readers to preview the contents, style and layout of the book. Should readers wish to acquire the book, they will need to send US$10-00 to the publishers. They will then be provided with the passwords to allow them to download the entire book and its accompanying images.To contact the publishers send an email to mike@rapidttp.co.za or see Payment Form

Getting a copy of the book

There are a number of different formats of this book available to you depending on where you are in the world.

About the Author - John Henry Marsh
Article on the "Passion of John Marsh" published in the Cape Times

Published by MIKE MARSH
P.O. Box 59227,Kengray,2100
South Africa
Jacket illustrated by Melanie Pritchard
History of reprints
The naming of the "Skeleton Coast" in the Kaokoveld

First published in 1944 by
HODDER and STOUGHTON,LIMITED
London and Cape Town

with subsequent editions or translations published by
HOWARD TIMMINS,Cape Town
NASIONALE PERS, Cape Town, Bloemfontein & Port Elizabeth
DODD MEAD & CO INC,New York
WESTERMANN, Copenhagen
PAN BOOKS LTD, London
MARSHES BOOKS, Johannesburg
NAMIBIAN SCIENTIFIC SOCIETY,Windhoek

Copyright Mike Marsh(2010)

See also
No Pathway Here by J.H.Marsh: the account of the annexation of Prince Edward and Marion Islands
The John H Marsh Maritime Research Centre a repository of 18000 photographs of ships
South Africa and the War at Sea by J H Marsh: booklet of interesting ships calling at Cape Town

mike@rapidttp.co.za