John H. Marsh Maritime Research Centre
John H Marsh Maritime Research Centre
A catalogue of a collection of 18000 photographs of 9200 ships taken in South Africa
mainly between 1921 and 1953
Ships with names beginning with the letter:
Named after the Cape Town born innovator, publisher, author and maritime historian (1914-1996), the centre is a blend of old and new.
It is designed as a place for serious study by those interested in the preservation of South Africa's Maritime heritage.
The core of its reference material is the library of the John H Marsh Maritime Collection with its several hundred shipping reference books going back to the 1800's. The Collection also features the original negatives of photographs of 9200 ships that called at Cape Town in the last century. A catalogue of these photographs is maintained on this Internet site.
In the past people have "gone to sea" to better their circumstances. In that tradition it is a specific aim of the Centre to use the Internet to help open new horizons to the disadvantaged community who might otherwise not have access to such a facility.
Internet users can order copies of the photographs from the collection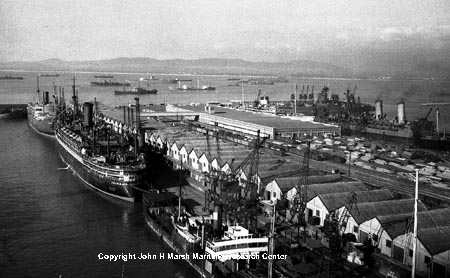 Pricing of PHOTOGRAPHS - Including VAT and postage
Size (inches)
UK Pounds
Euro
US$
4" x 6"
25
36
44
5" x 7"
30
44
53
8" x 12"
35
50
62
High RES scan
25
36
44
Extra large size:
Individual quotation
NOTE:
PAYMENT METHOD; Our bank details are as follows. Only transfer funds once you have corresponded with the Center to check that the photograph you require is available. Credit cards are accepted (Mastercard, Visa).
Electronic transfer payment to our bank account at;

BANK: Standard Bank of SA Ltd,

BRANCH: Cape Town Branch

BANK CODE: 020009

NAME : Iziko Museums of South Africa

ACCOUNT NO: 070099081
INTERNATIONAL SWIFT CODE: SBZAZAJJ


NOTE: When effecting payment to our above account please be kind enough to fax us the confirmation of payment and invoice in order that we may despatch your order. (Fax ; +27 (21) 405 2888)

Send web message
John H Marsh Maritime Research Centre -IZIKO MARITIME CENTRE